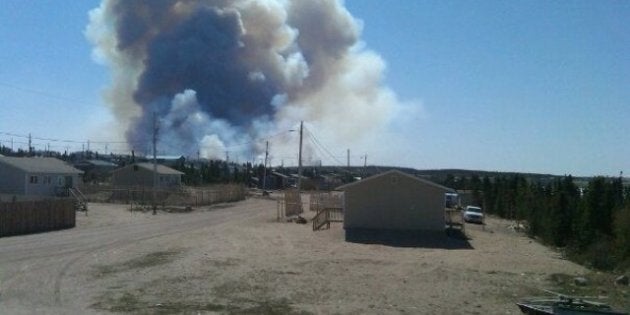 CBC Saskatchewan fire officials say human activity, not lightning strikes, are believed to be the cause of a massive forest fire in the north that led to the emergency evacuation of an entire community.
Steve Roberts, the executive director of wildfire management for the province, said the fire around Wollaston Lake covers about 4,400 hectares of forest.
The fire is not contained nor under control but Roberts said no buildings in the community have been lost.
He explained that fire fighters are building a fire guard on the eastern flank of the community and eventually hope to get a guard in place around the entire village.
Roberts said the airport was currently smoke-free and an area where people dock their boats was protected from the fire.
Efforts to fight the fire have been primarily from the air, with some 75 thousand litres of fire retardant poured on the fire. Another 150 thousand litres of water have been dropped from the air.
While Roberts said the fire was human-caused, he did not provide any more details about the investigation into that.
Officials also said Friday that about 20 people remain in Wollaston Lake to ensure critical infrastructure is maintained. They are also looking after feeding animals left behind in the evacuation.
From Tuesday to Thursday civilian and military aircraft were used to take a total of about 1,200 people out of the area to safety.
About half are staying at the Prince Albert campus of SIAST. The rest are in various civic buildings in Saskatoon. Some have been put up in motels and hotels. Some people are staying with family.