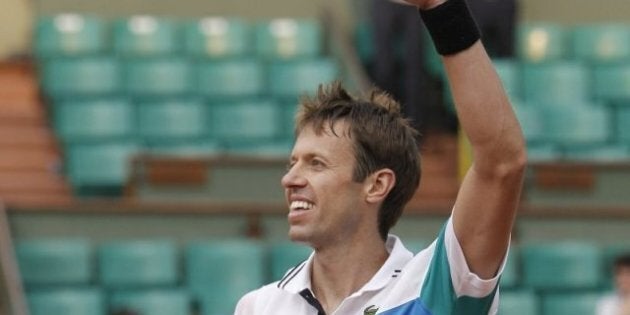 THE CANADIAN PRESS -- PARIS -- Canada's Daniel Nestor has done it again at Roland Garros.
The Toronto native and partner Max Mirnyi of Belarus downed Colombia's Juan Sebastian Cabal and Argentina's Eduardo Schwank 7-6 (3), 3-6, 6-4 on Saturday to win the doubles title at the French Open.
It was the third title in Paris for the 38-year-old Nestor, who won the event in 2007 with Mark Knowles and a year ago with Nenad Zimonjic.
The active player with the most wins (806) on the ATP, Nestor now owns seven Grand Slam doubles titles.
Cabal and Schwank were a totally untested combination, playing together for the first time. Cabal had never played an ATP-level match in singles or doubles before the tournament.
The unlikely opposition reached the title match against the second-seeded Nestor and Mirnyi by knocking out the world No. 1 pair of Bob and Mike Bryan.
"We feel fortunate to win today," Nestor said. "We got a bit lucky in the (58-minute) first set and that got us going.
"But these guys played tough, and we will see a lot more of them."
Nestor and Mirnyi won the tight opening set on an error from the South Americans but were taken to three sets for the only time in the tournament after Cabal and Schwank squared the match in the second.
The outcome in the third went down to the wire, with a double-fault from a nervous Cabal on match point the difference.
Nestor and Mirnyi came together as a team -- they had a brief run in 2000 -- in January after splitting from their respective partners.
Nestor now holds 73 career doubles titles.