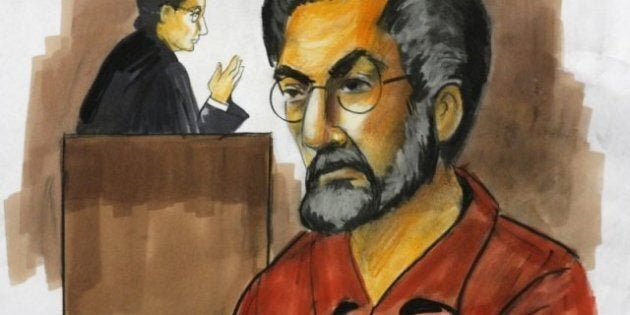 THE CANADIAN PRESS -- CHICAGO - A Canadian charged in the deadly 2008 Mumbai attacks was "playing on the same team" as an admitted terrorist who helped lay the groundwork for the rampage on India's largest city, federal prosecutors told jurors Tuesday.
In closing arguments, Assistant U.S. Attorney Victoria Peters said it was clear businessman Tahawwur Rana knew and helped his longtime friend, David Headley, as he took video surveillance in Mumbai before the attacks that killed more than 160 people.
Headley was the government's star witnesses in the federal terrorism trial and testified for five days about working for both Pakistan's main intelligence agency, known as the ISI, and Lashkar-e-Taiba, a Pakistani terrorist group that has been blamed for the Mumbai attacks.
The trial has been followed closely around the world, especially because it happened on the heels of Osama bin Laden's May 2 killing in Pakistan by U.S. forces. The fact that the al-Qaida leader had been living in an army garrison town outside the Pakistani capital for years raised suspicions that the Pakistani government knew, or even helped hide, bin Laden. Pakistani officials have denied the accusations.
Rana, who was born in Pakistan and has lived in Chicago for years, did not testify at his trial. He has pleaded not guilty to assisting Headley as he carried out surveillance for the Mumbai attacks and another plot against a Danish newspaper that in 2005 printed cartoons of the Prophet Muhammad. That plot was never carried out.
During closing arguments, Peters led through a timeline of numerous emails and recorded conversations in the case, including one between the men in September 2009. In it, Rana praised the Mumbai gunmen, saying they should be honoured, and Headley identified Denmark as a target for another possible attack.
"These two old friends don't just talk about past accomplishments, they talk about future goals," Peters said.
"Rana and Headley were playing on the same team," she told jurors.
Headley and Rana met as teens at a Pakistani boarding school and have stayed in touch. Rana, who owns several businesses in the Chicago area, allegedly provided cover for Headley to open a branch office of his immigration law business in Mumbai and travel as a representative on the company's behalf.
Defence lawyers have tried to paint Headley as lacking in credibility and have focused questioning on how Headley initially lied to the FBI as he co-operated, lied to a judge and even lied to his own family. They claim he named Rana in the plot because he wanted to make a deal with prosecutors and had to provide another arrest. Headley's co-operation means he avoids the death penalty and extradition to India, Pakistan and Denmark.
"Mr. Headley is about the most unreliable witness that has ever trod into a courtroom and that will become clear in closing argument," Rana lawyer Charles Swift told reporters.
Defence lawyers were expected to make their closing arguments later Tuesday.
Six others are charged in absentia in the case, including Ilyas Kashmiri, who was believed to be al-Qaida's military operations chief in Pakistan. He was reportedly killed Friday in a U.S. missile strike.