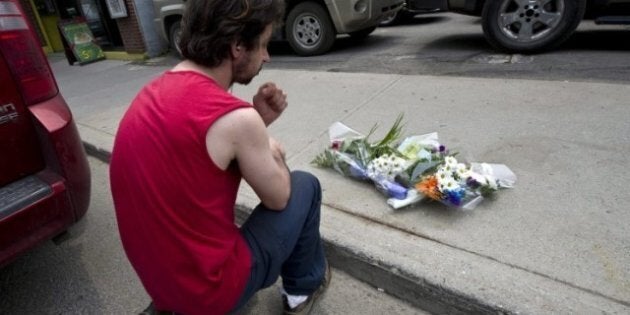 CBC -- Quebec provincial police have taken the unusual step of returning to the scene of a shooting by Montreal police two days earlier that ended in two deaths, including of a bystander who was on his way to work.
Investigators closed off St-Denis Street between René Lévesque Boulevard and Ste-Catherine Street Thursday morning to continue reconstructing the shooting. Police were pursuing Mario Hamel, a homeless man who officers say was wielding a knife, through the downtown core on Tuesday when they fired, killing Hamel and Patrick Limoges, a 36-year-old hospital worker.
The scene of the incident now bears graffiti left by protesters denouncing police violence, about 200 of whom marched to the site on Wednesday night.
"It's not usual that we return to the scene. ... We have ballistic experts and technicians ... and their expertise will allow us to advance our investigation," Lt. Guy Lapointe of the Sûreté du Québec said Thursday.
Lapointe said investigators had also been approached by someone claiming to have more information about the incident, and investigators are trying to determine if the person's information is pertinent to the investigation.
But Lapointe said some of the most important witnesses -- the police officers involved in the shooting -- had not yet been interviewed.
"Before interviewing the principal witnesses, we want to have a preliminary idea of what happened. It allows us to prepare better questions," said Lapointe.
"Some officers were hospitalized, so that's also a factor."
Lapointe said he didn't know yet if the officers involved had Taser stun guns at their disposal at the time of the shooting.
On Wednesday night, protesters left graffiti at the scene of the incident including a crude outline of a corpse and the words "killed by police" in French.
The street was expected to be re-opened later Thursday.
Limoges' mother told La Presse newspaper Wednesday that she and her ex-husband are in shock.
"You can't expect me to believe that four police officers aren't able to disarm a man with a knife. There's no logic in shooting bullets like that," said Johanne Rocheleau in an article in the French-language newspaper.
Hamel, the man police say was brandishing the knife, also died when officers opened fire.
Rocheleau, who lives in Trois-Rivières, Que., told the newspaper police officers had met with family members at the hospital to explain what happened.
"They told us it was the first time that this had happened," said Rocheleau.
There was an incident with a similar beginning but a different ending early Thursday in Montreal.
Police were called to the Hochelaga-Maisonneuve district where a woman was on the street with a knife.
Police described her as unco-operative and used a Taser on her. She was taken to hospital with minor injuries.
North of Montreal, an investigation began Thursday into another police shooting, this one involving the provincial force, that left one person injured in Rawdon.
Police were called to a home Wednesday after someone reported being assaulted.
There was an altercation and police shot one person in the lower body.
The investigation was handed over to Quebec City police.