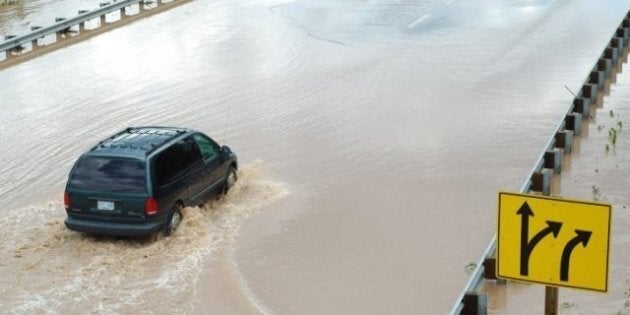 CBC -- Officials in Manitoba are scrambling to shore up flood defences, before a major rain storm descends on waterlogged areas of the province Sunday night.
The weather system is expected to bring 30 millimetres of rain to the Souris and Assiniboine river basins and force the Portage Diversion to run over its designed capacity.
The storm could push the Assiniboine back to the record water levels of a few weeks ago.
In Souris, about 60 people evacuated 23 homes on Friday over concerns about flooding. Town officials say they will let evacuees in to check on their pumps a couple times a day. The river is expected to crest in Souris in the last week of June.
Mayor Darryl Jackson's own home is just across the street from the evacuation zone. On Friday, Jackson said even if people are not under the evacuation order, many are still packing up and moving things up from their basements in case of flooding.
"People are using half-tonnes, flatbed trailers from neighbours, farmers, etc. It's hard work today, but people understand and they are abiding by the rules," he said.
Homeowner Corrine Hale said it was hectic day.
"Crazy. We've been moving everything out of the basement. I've been packing clothes and washing clothes and getting stuff ready to go because we are not sure how long we are going to be out," she said.
Emergency Measures Minister Steve Ashton said reopening the dike at the Hoop and Holler Bend in southern Manitoba is a "possibility, not a probability" for now.
The dike was intentionally cut in May because the rising Assiniboine was putting pressure on protective dikes in many places along the river.
Ashton says the province can't make a decision to reopen it until the impact of the rain in the forecast for early next week has been assessed. He stresses the move would be made as a last resort, but the province is already moving heavy equipment into place at Hoop and Holler Bend and at the Portage Diversion, just in case.
Ashton said the coming rain could push the Portage Diversion to its limits and that this year's flooding is unprecedented in recorded history.
Precipitation in northern Manitoba, however, is below average, so Ashton said the province could be dealing with forest fires in the north at the same time as flooding in the south.