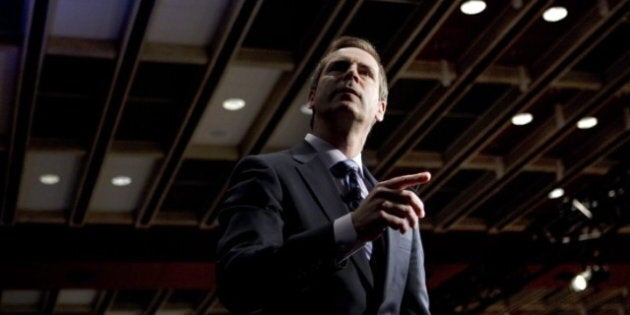 The three most popular premiers in the country also happen to be heading into an election this fall. Their timing could not be better.
But another election in October could mean the end for one of Canada's most consistently unpopular provincial leaders, Dalton McGuinty.
A poll conducted by Angus-Reid last month found that Saskatchewan Premier Brad Wall, Manitoba Premier Greg Selinger, and Newfoundland and Labrador Premier Kathy Dunderdale had the highest approval ratings in Canada.
While Wall was the only premier to score over 50 per cent, both Selinger and Dunderdale attained 65 per cent approval among those who expressed an opinion. Wall tops out at 71 per cent among decided voters.
This should come as no surprise for Wall and Dunderdale, who both lead their rivals in the polls by virtually insurmountable margins and are on track to win majority governments in the fall. But this is a shift for Manitoba's premier.
Greg Selinger's NDP has been trailing the Progressive Conservatives in the Prairie province for some time. The latest missive from Probe Research in March put the party 12 points behind the PCs.
However, the recent flooding in the province and Selinger's handling of the crisis appear to have improved his numbers. Perhaps even the relocation of the Atlanta Thrashers to Winnipeg has helped. When Angus-Reid last tracked the premier's approval rating in February, only 34 per cent of Manitobans gave him the thumbs up. That rating is now at 48 per cent, or 65 per cent of decideds instead of 47 per cent in February.
Considering his improved fortunes, the next poll from the province could show Selinger back in the lead, and capable of extending the lifespan of the NDP government in Manitoba which first came to power in 1999.
But things are not looking so sunny for Ontario Premier Dalton McGuinty. The Liberal leader has seen his approval rating stagnate in the high-teens for several years now, and according to Angus-Reid's latest finding the premier has the approval of only 19 per cent of Ontarians.
This is reflected in the most recent poll conducted by Ipsos-Reid from late May to early June. Tim Hudak's Progressive Conservatives hold the lead with 40 per cent support, enough to form a slim majority government. McGuinty's Liberals trail at 34 per cent, while the New Democrats stand at 20 per cent. This aligns nicely with a poll conducted by Nanos Research in May, showing that the Liberals have a long road ahead of them.
If there is a silver lining to these numbers for McGuinty, it is that he has overcome this sort of gap in the polls before. At about this time in 2007, the Liberals were either tied with or trailing John Tory's PCs only to come out ahead by 10 points on election night.
But with McGuinty's personal numbers remaining so low for so long, the next four months might not be enough time to change voters' minds again.
Editor's Note: This piece marks the first of a regular series for Huffington Post Canada by Éric Grenier, who will tap the pulse of federal and regional politics for our readers on Tuesdays and Fridays. Grenier is the author of ThreeHundredEight.com, covering Canadian politics, polls and electoral projections.