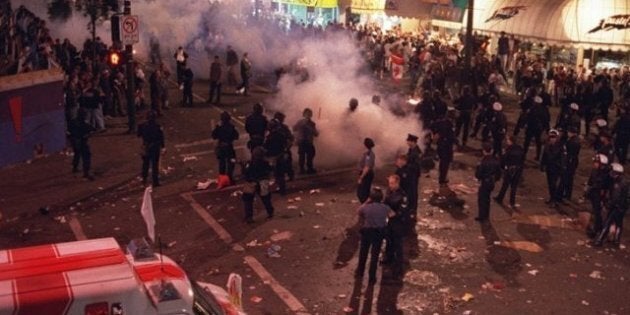 THE CANADIAN PRESS -- VANCOUVER - It's been 17 years but images of the Stanley Cup riot of 1994 still haunt the city that will host Game 7 of the NHL finals tomorrow night.
Thousands of people went on a rampage following the Vancouver Canucks' loss to the New York Rangers, smashing windows, throwing bricks and looting.
But Vancouver police say much has changed since then and, while they're certainly prepared, they're not anticipating any violence when the Canucks host the Boston Bruins for the final game.
Const. Lindsey Houghton says crowds have swelled to about 100,000 on some game nights, but have remained relatively well behaved.
He says officers hand out more high-fives than fines and pose for a lot of photos with hockey fans.
Still, the B.C. government has ordered liquor stores to shut down at 4 p.m., the same as before Game 6, and scores of police officers, transit police and other agencies will be on the streets for crowd control.