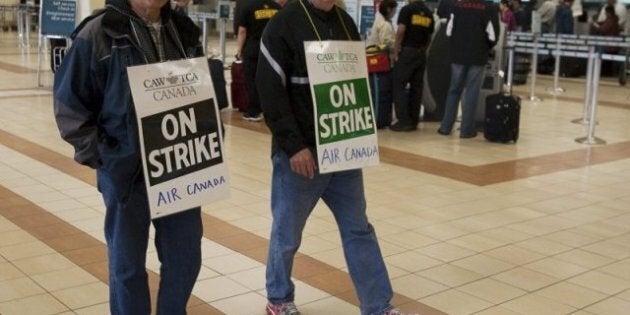 THE CANADIAN PRESS -- TORONTO -- Despite the looming threat of back-to-work legislation, Air Canada and the union representing thousands of its striking employees didn't appear to move any closer Wednesday to resolving their contract dispute.
There was some dialogue between the two sides but no formal, face-to-face talks are scheduled, said union spokesman Darryl Bink.
Travellers faced minor delays as striking workers staged protests at airports in Vancouver and Montreal on Wednesday, but no major disruptions have been reported since 3,800 customer service agents and other staff walked off the job Tuesday.
The federal government has warned it could table a back-to-work bill as early as today, saying the economy is too fragile to withstand a prolonged strike.
Canadian Auto Workers union president Ken Lewenza said he would like to negotiate a settlement with Air Canada before the government forces employees back to work.
"For us we really want to get a deal," said Lewenza. "There's one thing about legislation. It doesn't improve the workplace conditions or the morale. Our members will not be happy with being legislated back to work, they'll be happy with a bargained settlement."
But the issue of employee pensions remains a major stumbling block. The airline has proposed new hires would receive defined contribution pension plans instead of the defined benefit plans current employees have.
"Our members fought for a decent pension plan over the years," the union said in a memo to members Wednesday. "We want to ensure a decent pension for the next generation of workers. Two standards of pensions — one poor pension for new hires and a decent pension for current employees breaks solidarity among union members."
Defined benefit plans are designed to provide retirees with a predictable income, but they expose the airline to additional costs if the pension fund's assets aren't able to pay for the benefits.
With defined contribution plans, the airline's contribution is limited to a set, negotiated amount and payouts to retirees depend on the performance of the underlying investments.
Air Canada spokesman Peter Fitzpatrick said the company also wants to avoid back-to-work legislation and there has been "ongoing dialogue" between the parties at a Toronto hotel since the walkout began, focusing on possible resolutions to the pension issue.
Differences over wage proposals, while far apart, aren't insurmountable, added Lewenza. Most of the other issues have already been worked out.
Meanwhile, striking workers held protests at airports across the country on Wednesday. They staged information pickets targeting other airport employees at Toronto's Pearson airport, holding up traffic into the employee parking garage for 45 minutes, said union spokeswoman Delia Gaskill. However travellers driving to the airport were not delayed by pickets, she said.
The strikers also received support from about 200 members of the International Association of Machinists and Aerospace Workers who stopped working for about 20 minutes Wednesday morning at Pearson airport to show solidarity with their fellow Air Canada employees.
"They're not very happy with the labour minister in regards to what they're going to attempt to do to the CAW in regards to legislation for a return to work," said Boyd Richardson, spokesman for the machinists' union.
Some striking Air Canada workers, joined by locked-out postal workers, picketed federal Labour Minister Lisa Raitt's constituency office in Milton, Ont., Wednesday afternoon.Raitt informed the House on Wednesday she was tabling notice of intention to introduce back-to-work legislation for locked-out Canada Post workers. She served the same notice on the striking Air Canada workers Tuesday.