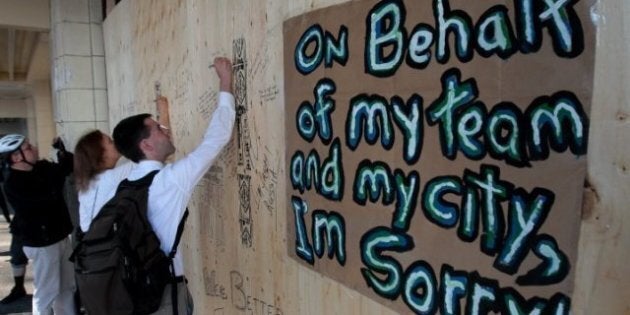 Within minutes of losing the the Stanley Cup final, Vancouver lost again.
But this time, it wasn't a lack of heart or determination or any other reason fans will use to defend their beloved Vancouver Canucks that sunk the city. This time, Vancouver was blindsided -- by a pack of hooligans that took their frustrations out on downtown streets.
That second loss will haunt the city most. The media wasted no time in broadcasting the riot -- the burning streets and roving thugs pouncing on passersby and newspaper boxes alike.
A CNN headline dubbed us "the loser city".
And that's the true tragedy here.
Vancouver is winning. Fueled by immigration growth, skyrocketing housing and cresting an Olympic high, Vancouver is the best city in Canada.
From its grand entrance on the world stage at Expo '86 to its dazzling performance at last year's Olympic Winter Games, the city has gently but firmly elbowed Toronto, Calgary and Montreal off the podium of Canada's big-city standouts.
Can there be any argument? Blessed with the ocean, the mountains and the chance to play for Lord Stanley's Cup, Vancouver is a city of beauty and progress, a thriving urban centre where food, the arts and marijuana are celebrated in equal measure.
Agree or disagree: Is Vancouver Canada's greatest city. Did the riots change your view? If not Vancouver, where? Why? Have your say in our comments
What makes a city great? Brent Toderian, Vancouver's director of city planning, rhymes off a barrage of adjectives: livable, vital, vibrant, smart, cultural, creative, socially just, tolerant, and inclusive, to name a few.
Having worked as a city planner for Toronto and Calgary, Toderian stops short of calling Vancouver Canada's greatest city. But just.
"I would never tell someone who loves their Canadian city that ours is greater because they will not agree and they are not wrong because greatness is subjective and it's personal," he told The Huffington Post Canada. Still, the renowned urbanist and hometown team fan has plenty of great things to say about Canuck Nation.
"We're considered a model city, a progressive and creative city, a counterintuitive city because we've been doing things for years that other cities still insist can't be done," says Toderian, co-founder of the Council for Canadian Urbanism.
Since the late 1960s, Vancouver has been staking a reputation on progressive urban thinking and leadership, he adds, citing the city's efforts to encourage families to live downtown. Over the past 20 years, the number of children living in the city's high-density, mixed-use core has increased from 40 to 7,000.
The Economist Intelligence Unit, the in-house research unit for The Economist magazine, has ranked Vancouver as the most livable city in the world for the past five years running. The annual survey rates cities on 30 factors across five categories: stability, health care, culture and environment, education and infrastructure. In the most recent ranking, three Canadian cities made it into the top 10 with Toronto in fourth place and Calgary in fifth.
Whether you get your culture fix from theatre, music, art or dining, Vancouver has it all. And does it all well. Every summer, the waterfront becomes a stage for Bard on the Beach, the annual Shakespeare festival.
Gastown gets its groove on for the Jazz Festival. The city's thriving art scene is celebrated at the Emily Carr University of Art and Design's annual Degree Exhibition.
As for food? Vancouver is world class. Be it Nicli Antica Pizzeria's authentic Neapolitan pies, which meet Canucks goalie Roberto Luongo's high standards for Italian fare, or Honjin's sweet sushi, which satisfies the Sedins twins Henrik and Daniel, Vancouver serves up cuisine that delights hockey players and international critics alike.
Vancouver also aims to be the greenest city on Earth by 2020 -- with a "green-print" that includes a blueprint for zero waste, independence from fossil fuels and the cleanest air of any major city in the world.
No wonder the likes of environmental icon David Suzuki and earth crusaders Greenpeace call it home. Vancouver can already brag about having the smallest carbon footprint of any major city in North America. It's a leader in green building, planning and technology.
Another "green" reason to love Vancouver: the city, known to some as 'Vansterdam,' is one of the most pot-positive locales in Canada. There are two vapour lounges where you can BYOB (Bring Your Own Bud) and rent a vapourizer, a device that heats up pot just enough to release THC, the active substance of the cannabis plant.
As for being vibrant, sociable, friendly and fun, you need to look no further than the downtown core last Friday after the Canucks won Game 5 and an estimated 100,000 fans celebrated in a scene reminiscent of Team Canada's gold medal hockey win at the 2010 Winter Games. The city's reputation as No Fun City has long been forgotten.
Vancouver was even rated the most walkable city in Canada by WestJet in 2009 and 2010, and is the only Canadian city on Frommer's list of the 10 most walkable cities in the world. Vancouver was voted one of the world's top destinations by the readers of Condé Nast Traveler (best in the Americas in 2010) and the world's best city for doing business -- thanks to its low taxes -- by KPMG.
Of course, Lotus Land is not perfect. "We've been a city characterized by vice, including drugs, sex, booze, organized crime as well as addiction and its attendant social debates," Charles Demers, a regular on CBC's The Debaters and author of Vancouver Special, told the crowd at a lecture titled "Vancouver: The Best Place on Earth?" in January.
You need only wander a few blocks from Rogers Arena to see what Demers is talking about. The Downtown Eastside, one of Canada most infamous neighbourhoods, is home to hundreds of drug users. There are about 1,600 homeless people in Vancouver proper, according to the 2011 Metro Vancouver Homeless Count, and many of them live in the Downtown Eastside.
On the positive side, Mayor Gregor Robertson has pledged to end street homelessness by 2015. Vancouver is also home to some innovative programs and services to help the marginalized. North America's first legal supervised injection site, Insite, has been giving drug users a safe place to shoot up since 2003. Farther down East Hastings Street, Pivot Legal Society offers legal assistance to people with low incomes and carries out legal campaigns around policing, housing and sex work.
Housing is not only a problem plaguing the poor in Vancouver. According to Demographia's 2011 International Housing Affordability Survey, the city had a median house price of $602,000 for the third quarter of 2010 and a median household income of $63,100. That makes Vancouver the least affordable housing market in Canada and the third least affordable in the world, according to the survey.
"You'd be hard pressed to find other cities that are trying to do more at the city level to battle the affordability challenge than us," Toderian notes.
The higher the quality of life in a city, the more people will seek to access it, which results in higher demand and higher prices, Toderian explains.
"Some suggest high cost of living doesn't necessarily lower livability, rather it may restrict who can fully access and enjoy that livability. This may allow a high livability ranking from the (Economist Intelligence Unit) for an expensive city, but it has an impact on its diversity and inclusiveness, two significant qualities of a sustainable, socially just and interesting city."
Even the Vancouver Canucks pay a price to play in Vancouver. Many marquee players signed for less than they're worth to stay in the city: Daniel and Henrik Sedin, each five years at $30.5-million U.S., Ryan Kesler at six years for $30-million, and Alex Burrows at five years for $10-million.
In the violent aftermath of Wednesday night's Stanley Cup match, the world may have seen much of that glass shatter.
But not so, the vitality and pride of the people that call Vancouver home.