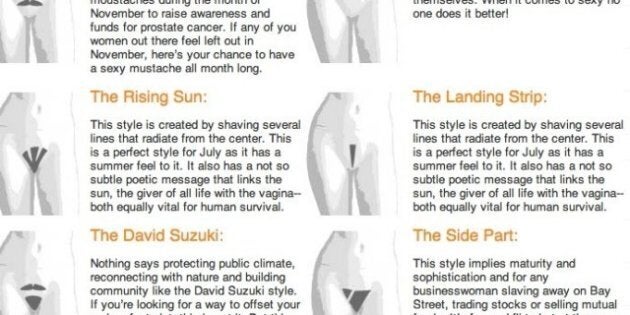 Every November, men across the country take part in Movember, a fundraiser where men grow their facial hair for the month as walking billboards for prostate cancer.
But why should the boys have all the fun?
Vanessa Willson was having drinks with friends last November, admiring the array of mustaches and beards men were sporting that month. What started as a silly idea — what about a Movember for women? — became Julyna.
The month-long event, starting July 1, tries to get Canada talking about HPV and cervical cancer and is being supported by the Canadian Cancer Society and a growing list of participants and supporters.
Cervical cancer is the second most common cancer in Canadian women between the ages of 20 and 44.
To participate in Julyna, women can grow and design their hidden-hair in whatever design they pick for the month and ask for donations. Their website offers potential designs, including "The David Suzuki" and "The Barbara Bush."
"We hope the humour will help women feel comfortable talking about cervical cancer and talking about that area," Willson, a Toronto nurse, told The Toronto Star.
HPV is more prevalent amongst women than you'd expect: three in every four sexually active women will contact the the infection through sexual contact, often without realizing they have it. Willson started Julyna to get women involved in their sexual health by getting regular Pap tests which can prevent cervical cancer with early detection.
The goal is to meet $50,000 in individual donations along with a black-tie fundraiser on July 28 to raise awareness about HPV, cervical cancer and how important Pap tests are for women.