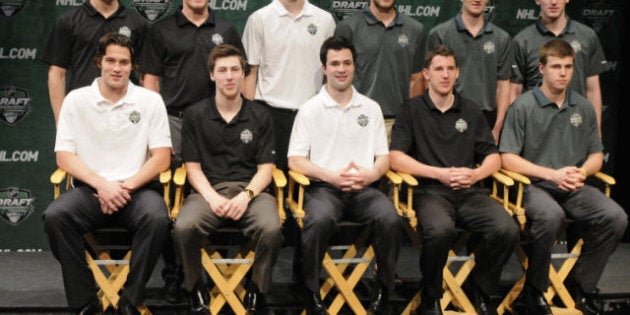 Get ready for the world's biggest and best reality show.
It only happens once a year, but it appeals to all demographic groups – teenagers, moms, dads, aunts, uncles and grandparents alike. Producers of Survivor, The Apprentice, and American Idol wish they could only be so lucky.
It's the National Hockey League entry draft, slated for Friday and Saturday in St. Paul, Minn. Thousands of 18 and 19-year-olds from all over the world have spent years training and fighting – literally, in some cases – to enter the dragon's den. In addition to spending countless hours auditioning on ice, the youngsters have been poked and prodded in physical testing and psychological examinations that only a paratrooper could enjoy.
Although the draft decisions will be reviewed for years to come, few prospects will ever play in the NHL. But for general managers, scouts, fans, players' friends and family and the prospects themselves, nothing is more intriguing or nerve-wracking. Here's a look at what Canada's teams will be seeking in the draft and the trades surrounding it.
Each team's order of first-round selection is in parentheses. Some teams have more than one first-round pick as a result of earlier trades.
After advancing to the seventh game of the Stanley Cup finals, the Canucks will be looking to add more depth – plus a power forward that can help them get over the championship hump. The depth will come through draft picks. However, the power forward will come via trade – possibly from a package involving backup goaltender Cory Schneider, defenceman Keith Ballard and, maybe, a draft pick. Last year, the Canucks did not have picks in the first three rounds as a result of trades. This year, GM Mike Gillis is looking to acquire picks that he lost previously. Centre Cody Hodgson, who appears to have worn out his welcome in Vancouver after a so-so rookie season, may also be part of the trade mix.
The Flames appear set to make a splash, with reports Thursday indicating veteran defenceman Robyn Regehr is on his way to Buffalo. General manager Jay Feaster is also looking to build depth, but he must find a way to rebuild an aging and under-performing roster sooner than most other clubs. Thanks to a late surge, the Flames almost made the playoffs after a disastrous mid-season. Feaster has to balance that revival with the club's long-term needs, because the Flames appear likely to miss the post-season dance again. The Regehr trade will likely give them a mid-level pick in the first round. Fellow rearguard Jay Bouwmeester may also be on his way out after two disappointing seasons in Cowtown.
The Oilers will continue to stockpile talent as they near the turning point of their once-great franchise's revival. The selection of Red Deer Rebels centre Ryan Nugent-Hopkins with the first overall pick will continue an accumulation of young stars not seen in the Alberta capital since the club's early days in the NHL in the late-1970s and early-1980s. Florida general manager Dale Tallon was trying to move up through trade and pluck the top pick. But Edmonton general manager Steve Tambellini is unlikely to bite.
For reasons explained in an earlier story, we'll call Winnipeg's club the Jets. Simply put, they need scoring talent to complement young star Evander Kane, captain Andrew Ladd and the enigmatic Nik Antropov. The Jets have defensive depth, strong goaltending and cap space to burn – but little (no pun intended on Bryan Little) in the way of scoring. Watch for rookie GM Kevin Cheveldayoff to make a trade splash as he gets an opportunity to play with co-owner David Thomson's money. It will not be a major surprise if Antropov is dealt. The Jets want to make an impression on their fans after they bucked up quickly for 13,000 season tickets – and now is the time to do it.
(No. 6 and No. 21 Overall)
The Senators have their own pick No. 6 overall and have Nashville's former No. 1 after trading Mike Fisher to the Predators at the deadline. Now, general manager Bryan Murray, who received a new contract when many fans wanted him fired, faces the usual pressure to trade centre Jason Spezza. That would be a huge risk, but Murray might not have a choice. With few prospects ready to play in the NHL and questionable talent on the main roster, the Sens are a disaster waiting to happen.
As usual, Leafs GM Brian Burke says he has plenty of "lines in the water" but few trades pending. It's a given that Burke, who has a spotty draft record with Hartford, Vancouver, Anaheim and Toronto, will try to swing a big deal. But the Leafs are starting to look like a team that can at least challenge for a playoff spot regularly. They have a fairly solid top-four defence crew, but could use another rearguard or two, not to mention a major infusion of scoring.
Like the Canucks, the Habs fell to the Bruins because they did not have a quintessential power forward. Accordingly, Montreal will be looking for size to complement small speedsters like Brian Gionta and the under-performing Scott Gomez. The Canadiens are set on defence and in goal for a while. Any trades will likely be tweaks to a team that is close to contending for the Stanley Cup.