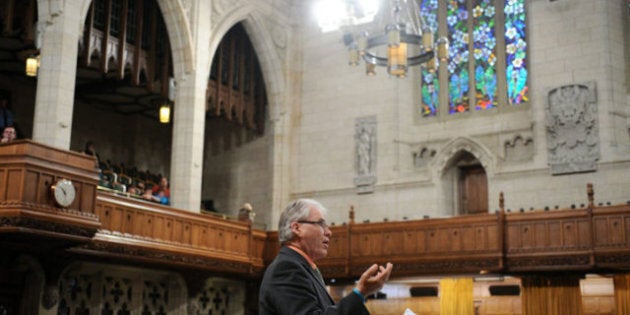 THE CANADIAN PRESS — OTTAWA - Neither rain, nor snow, nor sleet, nor hail can keep postmen from their rounds but apparently hot air will do the trick.
Members of Parliament have already broken the record for non-stop debate on back-to-work legislation, and they could still be talking a week from now about the Harper government's attempt to re-start postal service.
Legislation that would end the lock-out of thousands of postal workers remains tied in procedural knots as the NDP filibusters what it considers a Draconian bill that tramples the rights of organized labour.
Both the NDP and Conservative government say they're willing to discuss amendments to the legislation that might yet break the parliamentary impasse. But there was little evidence of any progress on that front Friday.
After tying up the Commons in procedural wrangling most of Thursday, debate on the actual bill barely got started late that night before it was cut short by NDP Leader Jack Layton. He moved a motion to delay debate for six months.
With every one of the NDP's 103 MPs determined to speak to their leader's motion and use up all their allotted time, bleary-eyed parliamentarians continued to debate the motion throughout the night and all day Friday.
At a rate of about four speakers per hour, the government calculated Layton's motion should eventually come to a vote at some point after midnight, finally allowing debate on the legislation to resume early Saturday.
With luck, a second reading vote would take place on Sunday or early Monday.
But there are still plenty of legislative hoops the bill must jump through: clause by clause examination and consideration of amendments by the Commons sitting as "committee of the whole," report stage, and third reading, all before it can be sent on to the Tory-controlled Senate for approval.
If New Democrats insist on taking the maximum time allowed each MP at each stage, they could drag out debate until next weekend.
According to the government, the old record for debating back-to-work legislation was 27.5 hours, set in 1989.
"There's still no postal delivery in Canada right now," said Labour Minister Lisa Raitt, laying the blame squarely on the NDP.
"We know that small businesses want it to happen. We know that charities are waiting for it to start again. We know that residents know what's going on here and they want this bill to pass.
"And our concern is, quite frankly, we're still in a situation where the bill isn't even close to being passed."
Raitt said the government has a "strong mandate" to force an end to the postal dispute. And she said Tory MPs "are here to sit until the legislation passes so that Canadians can get their mail, so that the economy can continue to recover."
Layton insisted his party also wants to get the mail moving again but not if it means passing the legislation as is. He said the NDP — which strenuously objects to provisions that would impose a wage hike lower than Canada Post's last offer and set stringent arbitration guidelines — has drafted amendments.
"Literally, as we speak, there are proposals being put together and being offered to the government," he told reporters as he briefly celebrated St-Jean-Baptiste Day in Gatineau, Que., before returning to his seat in the Commons.
"We think there are real problems with this legislation. On the other hand, we want to get the padlocks off the doors that (Prime Minister) Stephen Harper put on the postal service and we're looking for solutions here."
Raitt said she's had discussions with NDP labour critic Yvon Godin but, as of shortly after noon Friday, had seen no concrete proposals from the NDP for breaking the parliamentary impasse.
"We had general discussions about principles, really ... and it didn't amount to anything."
Liberal Leader Bob Rae blamed both the government and NDP for playing to their respective voting bases and creating a needless impasse.
"What we're seeing is a classic case of shambolic behaviour by two ideological parties, the Conservatives and the NDP," Rae said, explaining that shambolic "means ritual pawing of the ground that is actually a sham."
He said a compromise — wherein postal workers would "return to work, no strikes, no lockouts" and both sides would commit to "less constricted" mediation and arbitration — should have been possible. Instead, the Conservatives' "sledgehammer has found the perfect rock" in the NDP.
The bill was introduced Monday after Canada Post locked out workers following a series of rotating strikes, which began June 3. Talks between Canada Post and the union collapsed late Wednesday.
Joan Bryden, The Canadian Press