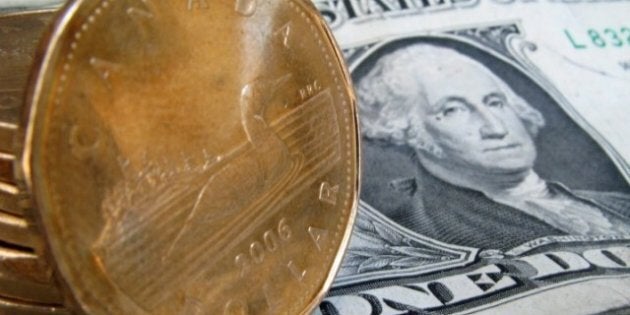 CBC — TORONTO - The Canadian dollar was higher Monday in the wake of strong economic reports last week that could persuade the Bank of Canada to raise its key interest rates sooner rather than later.
The loonie was up 0.40 of a cent from Thursday's close at 104.08 cents US. The Bank of Canada was closed Friday for the Canada Day holiday. It slipped somewhat in the afternoon but remained firmly above the $1.04 level.
Most U.S. financial institutions are similarly closed on Monday for the Independence Day holiday.
Inflation data last week came in well above expectations, with Statistics Canada saying prices rose by 3.7 per cent in the 12 months up to May. That's the highest pace of increase in more than eight years. Even on a monthly basis, prices were 0.7 per cent higher.
"Last week should have soothed a lot of fears about the Canadian fundamental backdrop, and has likely increased the concern at the Bank of Canada," Scotiabank currency strategist Camilla Sutton said.
The strong inflation report, coupled with a GDP report on Thursday showing the economy was essentially flat in April (better than the slight contraction economists were expecting) make it "likely that the Bank of Canada is growing increasingly concerned about the level of interest rates in Canada," she said in a report Monday morning.
After nearing the $1.01 level early last week, the loonie has now gained roughly three per cent in value against its main benchmark, the U.S. dollar.
Traders will now turn their attention to the June jobs report, which is set to be released on Friday. Expectations are that the economy added about 15,000 jobs while the jobless rate ticked up by 0.1 per cent to 7.5 per cent.
American markets were shuttered for the July 4 holiday but commodity prices advanced in electronic trading on the New York Mercantile Exchange.
The Toronto Stock Exchange was open, however, and the S&P/TSX Composite Index was 93 points higher at 13,394 in light trading in the afternoon.
The August oil contract ticked six cents higher to $95 a barrel. The August gold contract rose $13.50 to $1,496 an ounce, while the September copper contract was unchanged at $4.30 US a pound.
In economic data released Monday, Statistics Canada reported that prices both for industrial products and raw materials slipped in May. The agency said its Industrial Product Price Index edged down 0.2 per cent, while the Raw Materials Price Index fell 5.2 per cent.
The major contributors to the declines were metals in the case of the industrial index and petroleum for the raw materials index.