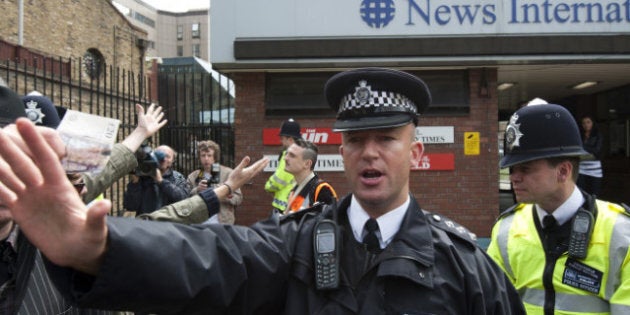 THE CANADIAN PRESS -- LONDON - Prime Minister David Cameron's former communications chief and an ex-royal reporter were arrested Friday in a phone hacking and police corruption scandal that has already toppled a major tabloid and rattled the cozy relationship between British politicians and the powerful Murdoch media empire.
The 168-year-old muckraking tabloid News of the World was shut down Thursday after being engulfed by allegations its journalists paid police for information and hacked into the phone messages of celebrities, young murder victims and even the grieving families of dead soldiers. Its last publication day is Sunday.
The hacking revelations horrified both ordinary Britons and advertisers, who pulled their ads en masse. News International, the British arm of Rupert Murdoch's News Corp, killed the paper in hopes that a 12-billion pound ($19 billion) deal to takeover satellite broadcaster British Sky Broadcasting could be saved, but the British government signalled the deal would be delayed as a result of the crisis.
Scroll to page bottom for a live blog with breaking developments.
"Given the events of recent days, this will take some time," Cameron said.
Over a billion dollars was wiped off the value of BSkyB after Cameron spoke, with BSkyB shares down around 7 per cent Friday in London trading.
London police said a 43-year-old man was arrested Friday morning on suspicion of corruption and "conspiring to intercept communications." They did not name him, but offered the information when asked about Andy Coulson, Cameron's once-powerful aide and a former editor of News of the World.
Police also arrested Clive Goodman, the former News of the World royal editor who already served a jail term in 2007 for hacking into the phones of royal aides. This time the arrest was on suspicion of making illegal payoffs to police for scoops.
Detectives searched Coulson's home in London and Goodman's home south of the city Friday, as well as the newsroom of a second tabloid, the Daily Star Sunday. That paper is owned by Richard Desmond's Northern & Shell media conglomerate, and Goodman has done work for it since his release from jail.
Cameron, realizing that the crisis was knocking at his 10 Downing St. door, moved quickly to distance himself from it. He acknowledged that British politicians and the press had become too close and promised investigations into both the tabloid's actions and into future media regulation.
"The truth is, we've all been in this together," Cameron told reporters at a hastily arranged news conference Friday morning. "Party leaders were so keen to win the support of newspapers that we turned a blind eye to the need to sort this issue. The people in power knew things weren't right but they didn't do enough quickly enough."
Coulson quit as editor of News of the World after Goodman, the paper's royals reporter, and private investigator Glenn Mulcaire were jailed in 2007 for hacking into the phones of royal aides. Coulson maintained he knew nothing of the hacking, and was hired in 2010 as Cameron's director of communications. Coulson resigned in January as it became clear that hacking had been far more widespread at the paper.
Opposition Labour Party leader Ed Miliband had urged Cameron to apologize for "the appalling error of judgment he made in hiring Andy Coulson." Cameron refused and said Coulson remained a friend, but move away from his former ally.
"(Coulson) gave me assurances," Cameron said. "He said he had resigned because of what had happened, but he didn't know the hacking had taken place."
"I took a conscious choice to give someone who had screwed up a second chance," Cameron said. "He worked for me, he worked for me well, but actually he decided in the end the second chance wouldn't work, he had to resign all over again for the first offence."
Cameron said press self-regulation in Britain had failed and a new body, independent of the media and the government, was needed to properly enforce standards. The police investigation of the phone hacking charges years ago has now been criticized as incomplete and compromised by new bribery allegations. The Metropolitan Police this week expanded their hacking inquiry and say they are looking at the names of over 4,000 people as possible victims.
Cameron said his friend Rebekah Brooks, a former editor of the tabloid, should have resigned as chief executive of News International, the British unit of Rupert Murdoch's News Corp.
The prime minister referred to reports that Brooks had offered her resignation. "In this situation I would have taken it," Cameron said.
He also said there were questions to be answered by James Murdoch, the heir-apparent to his father's media empire.
"I want everyone to be clear: Everything that has happened is going to be investigated," Cameron said.
He said a judge will be appointed to lead a thorough investigation of what went wrong at the News of the World, including alleged bribery of police officers, and a second inquiry to find a new way of regulating the press.
The scandal exploded this week after it was reported that the News of the World had hacked the mobile phone of 13-year-old murder victim Milly Dowler in 2002 while her family and police were desperately searching for her. News of the World operatives reportedly deleted some messages from the phone's voicemail, giving the girl's parents false hope that she was still alive.
That ignited public outrage far beyond any previous reaction to press intrusion into the lives of celebrities, which the paper has acknowledged and for which it paid compensation.
Dozens of companies pulled their advertising from the paper this week, fearing they would be tainted by association. James Murdoch, Rupert's son, then announced Thursday that this Sunday's edition of the tabloid would be its last and all revenue from it will go to "good causes."
News International, the British unit of Murdoch's News Corp., has not said whether it will move quickly to put another paper into the Sunday market that had been dominated for decades by News of the World. According to online records, an unnamed U.K. individual on Tuesday bought up the rights to the domain name "sunonsunday.co.uk."
The British government gave its qualified approval in June to Murdoch's News Corp. purchasing the 61 per cent of British Sky Broadcasting that it doesn't already own, on the condition it spins off news channel Sky News as a separate company.
Despite the public outcry, many analysts think Britain will still sanction the takeover, but the government signalled Friday that a decision is likely to be delayed.
Culture Secretary Jeremy Hunt said Friday the huge volume of responses to a public consultation on the takeover, said to exceed 100,000 submissions, would delay the approval process. Analysts expect the BSkyB deal approval to be delayed now until at least September.
Live Blog Of Breaking Developments From The Huffington Post U.K.