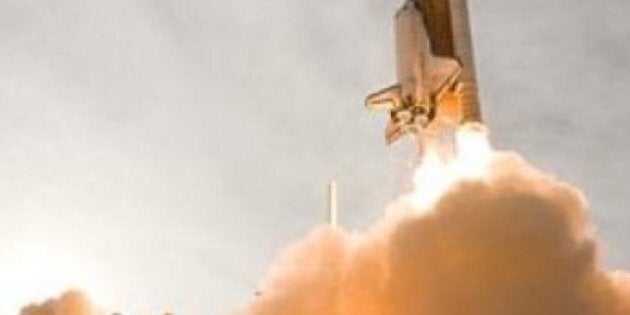 THE CANADIAN PRESS -- CAPE CANAVERAL, Fla. - Even the most seasoned space veteran couldn't control himself while watching the shuttle blast off on its final flight.
Bob Thirsk, who set a Canadian record by spending six months in space, stared intently across a huge pond and shouted as the shuttle Atlantis' giant rockets roared to life.
"Go, go!" Thirsk added, punching the air with both his arms over his head.
Thirsk high-fived a much calmer fellow Canadian astronaut, Dave Williams, who steadied himself enough to take pictures with his phone camera.
Several Canadians were among the hundreds of invited guests who watched as the 30-year shuttle program wound down, with massive rockets vaulting four American astronauts into the clouds.
Atlantis is also carrying a Canadian icon on its last mission.
The Canadarm is making its 90th and final flight. It has been the most famous Canadian contribution to a shuttle program that conducted countless science experiments, developed new technologies now used on Earth, and helped build the International Space Station.
This version of the robotic limb, one of three remaining ones, will head for a U.S. museum along with the shuttle after it completes its final tasks in space. The original Canadarm, which cost $108 million to develop and was aboard the recently retired shuttle Endeavour, will be removed and returned to Canada later this year.
The vibrations from the blastoff could be felt deep inside the chests of witnesses, who gazed skyward as the white brilliance from the thrusters lit up even the daytime sky.
For Williams, it was a spectacular launch and an amazing experience.
"In terms of ending an era of the shuttle program, this is the way to do it," he told The Canadian Press.
"A beautiful launch, a beautiful day."
His colleague Thirsk is the most recent Canadian to travel into space. Thirsk spent six months aboard the International Space Station in 2009 after being shipped up on a Russian Soyuz vessel.
The Soyuz will be used to ferry astronauts up to the orbiting lab until a new commercially built shuttle is ready in about three years.
"We're shutting the chapter on the space shuttle program, but we're opening up a new book on exploration of the inner solar system," an emotional Thirsk said, while admitting he had mixed feelings Friday.
Chris Hadfield will be the next Canadian astronaut to travel to the space station in late 2012. He will make the trip aboard a Soyuz.
"This for me is a really important day," he said. "I think it demonstrates everything that's right about NASA and about the Canadian Space Agency.
"I'm very proud of where we are today," he said. "If anything, it helps establish things even better for when I have a chance to fly in space again next year."
Three other Canadians were lucky enough to be among the 150 people who were randomly chosen for a gathering of Twitter users at the Kennedy Space Center.
The launch was an unforgetable experience for Andrew Ferguson of Vancouver.
"It's the kind of thing there are not really a lot of words to describe," the 27-year-old software developer said.
"As a Canadian I have always been proud of the fact that we've been deeply involved in the space program and I hope that's going to continue. But at the moment I don't really know what the future is for Canada in space."
Torontonian Nicole Winchester was last at the space centre in 1978 when she was two years old -- not old enough to remember much.
Now 36, she feels like she's come full circle.
"It also feels like opening a new chapter (and) this is a chance for me to really think about what I want to do with my life," she said.
"And maybe it's time for me to go into space -- even though I'm way too old to be thinking about it," Winchester quipped.
Tweeter Lar Desouza from Acton, Ont., was nearly speechless after the launch. He says the waves of cracking sound from the rocket blast echoed through his chest.
"It was outstanding, incredible -- pick your adjective-- it was just amazing," the 48-year-old cartoonist said.
Atlantis has some other Canadian content, beside the Canadarm.
The Hypersole project, which measures changes in sensitivity on the feet of astronauts before and after space flight, has been extended by one mission. It was supposed to end with the shuttle Endeavour, but scientists have asked for more data.
There are hopes that the University of Guelph's celestial tickle test may help aging seniors back on Earth who have problems with balance.
Atlantis also will be conducting more tests on infrared TriDAR technology, developed by Ottawa-based Neptec Design Group to help safely dock spacecraft autonomously.
"We now have a system where we can start tracking objects when they are 40 kilometres away and track them to the point where objects come together," Neptec CEO Iain Christie said in a recent interview.
"It's designed to help spacecraft rendezvous."
The shuttle is also carrying a module for a new robotic refuelling test which will be conducted outside the space station.
Mathieu Caron of the Canadian Space Agency says Dextre, Canada's robotic handyman on the space station, will continue to play a big role.
The plan is to test tools, technologies and techniques which would eventually allow humans on Earth to robotically refuel satellites in space.
"The interesting part about it is, here we are today, opening up a brand new era in servicing expensive satellite systems through the use of robotics,' Caron said during a recent news conference.
Atlantis is also carrying tomato seeds for Canadian and U.S. classrooms as part of the continuing "Tomatosphere" educational project.