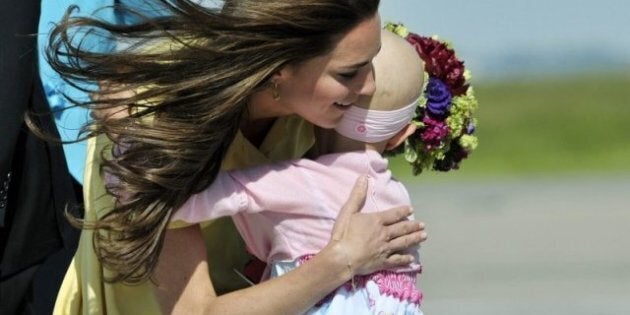 THE CANADIAN PRESS -- It's the last day of William and Kate's Canada tour, which winds down Friday in Calgary, where the royal couple will help launch the Calgary Stampede parade.
But one of the more touching moments of the tour occurred the day before at Calgary's airport, where the Duchess of Cambridge turned her attention to Diamond Marshall, a six-year-old girl decked out in a pretty pink dress with a matching band encircling her bald head.
Diagnosed with from Stage 4 undifferentiated sarcoma last December, Diamond had two life-saving surgeries in recent months and had spent nearly a month in intensive care.
The youngster's biggest wish was to one day meet a "real princess." She had written Kate a note from the hospital bed where she watched the royal wedding earlier this year, and the Children's Wish Foundation went to work.
Diamond ran up to her, thrust a handmade gift and flowers toward the smiling Duchess and then bolted back to the safety of her parents. Kate entreated the shy little girl to come back and after they exchanged a few words they gave each other a hug.
This gallery will be updated all day, so please check back often.