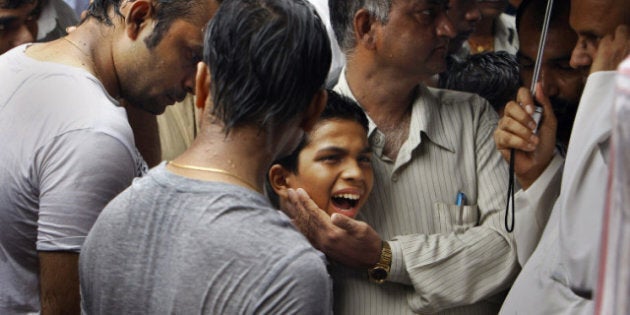 THE CANADIAN PRESS -- CALGARY - The Canadian government says three co-ordinated bombings in India that have killed at least 17 people and injured 131 others is a sign that terrorism is "alive and active" in the world.
The bombings tore through the heart of India's busy financial capital during rush hour Wednesday. It was the worst terror attack in the country since the 2008 Mumbai siege.
Bloody bodies were strewn in the dirt of Mumbai's crowded neighbourhoods and markets. Doors were ripped off storefronts, motorcycles were charred and a bus stop was shredded.
Prime Minister Stephen Harper called the attacks "heinous acts of violence" and offered his sympathy to the victims.
"These attacks are a stark reminder that terrorism is alive and active around the globe and can strike at any time," Harper said in a statement.
Both Harper and Immigration and Citizenship Minister Jason Kenney visited India following the 2008 attacks.
Story continues under the slideshow.
"I can tell you having visited Mumbai shortly after, people were still deeply traumatized," Kenney told reporters at a Calgary news conference.
"So to see this happen again indicates that the enemies of our democratic values will not relent and it reminds us that the fight against terrorism isn't a passing thing. It's a long-term fight and regrettably, the people of India are on the front lines."
Kenney said he was not aware of any foreign nationals who were hurt or killed in the bombings. Canada will do anything it can to help India, but there have been no requests for assistance, he added.
"I'm sure that all Canadians are deeply concerned about these attacks, but I suspect there are tens of thousand of Canadian citizens who have relatives or friends in Mumbai and we want them to know that our consular services are certainly alert to the situation," he added.
Ontario Premier Dalton McGuinty offered his condolences as well, saying his thoughts are with the people of Mumbai and the hundreds of thousands of Ontarians who are concerned about the events in India.
"Here in Ontario, we are fortunate to have a community that traces their roots back to India and maintains strong ties with family and friends still there," McGuinty said in a release.
"And on days like this, those ties bring us closer together, through shared grief and resolve to stand up to the forces of hate."
By Bill Graveland, The Canadian Press