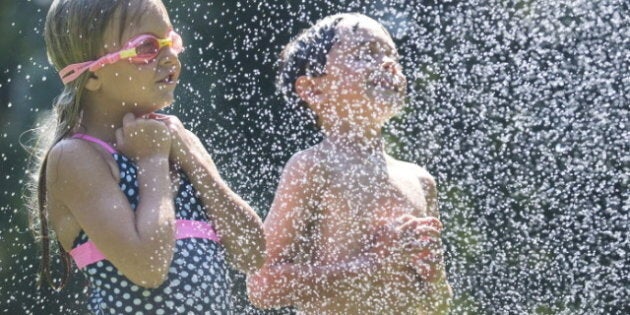 CBC — A heat wave continues to scorch Canada from Manitoba to Quebec.
In Southern Ontario, Toronto broke a high temperature record. Environment Canada reported temperatures in Toronto reached 35 C at around 3:00 p.m. That broke the previous record for July 17 — 34.4 C — set in 2002.
Other areas of Ontario were affected by soaring temperatures even though they didn't make hot-weather history. Ottawa hit 34 C in the afternoon while Windsor was at 32 C.
Toronto's medical officer of health is asking residents to check in on friends, family and neighbours who might be at risk from the heat. This includes the elderly or those with medical conditions.
People are also advised to drink lots of water and avoid going outside if possible. The entire region, including the City of Toronto, is under a heat advisory.
In Ottawa, paramedics were forced to remind people not to leave young children or pets unattended inside vehicles.
The warning came after a one-month-old infant was left inside a locked car in a store parking lot on Saturday. Police smashed the window of the car and rescued the baby, who was in hospital in stable condition, suffering from heat exhaustion.
Meanwhile, Environment Canada says a hot and humid air mass will also continue to affect Northwestern Ontario, where temperatures were forecast to climb into the low 30s with humidex values near 40. Some relief is expected Monday for Northwestern Ontario with the passage of a weak cold front.
The soaring temperatures and tinder dry conditions are fuelling dozens of forest fires in the region. The Ontario Ministry of Natural Resources says there are 85 active fires in the province — 80 of them in the remote northwest.
In Northeastern Ontario, hot and humid conditions will move into the area Sunday with temperatures rising into the low 30s and humidex values climbing in the high 30s.
In Quebec, temperatures of 30 degrees and a humidex of 35 to 40 were expected. Air quality was forecast to deteriorate and thunderstorms, potentially severe in areas from Abitibi to Saguenay, were likely to develop.
These thunderstorms could later affect a number of regions in the evening or overnight into Monday, Environment Canada says, as a cold front sweeps through the province from west to east.
Hot and humid conditions also exist across southern Manitoba, with temperatures in the low to mid 30s and humidex values in the 40 to 43 range Sunday afternoon.
These high humidex values should abate in the evening, Environment Canada says.
There were two major power outages in Winnipeg on Sunday, the first in River Heights and the second later in the day affecting Fort Rouge and parts of the West End. The latter outage was attributed to a power surge caused by a massive draw on hydroelectric power, possibly due to use of air conditioners, Manitoba Hydro spokesperson Anita Mitchell said.