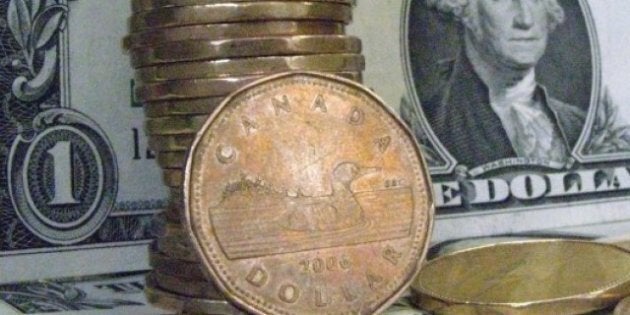 THE CANADIAN PRESS -- TORONTO - The Canadian dollar advanced Tuesday as the Bank of Canada said it was keeping its key interest rate unchanged at one per cent.
The loonie rose 0.69 of a cent to 104.98 cents US.
However, it prepared markets for an increase down the road as the central bank acknowledged that it will "eventually" have to go higher.
Analysts point to the current wave of uncertainty surrounding the European government debt crisis as one reason the Bank felt it can't raise rates now.
"Of course, the troubles abroad and challenges to net exports kept the Bank from hiking as early as today, and it is still assuming a resolution of the eurozone debt issues," said CIBC World Markets chief economist Avery Shenfeld.
"But signs of better growth in the U.S. and Canada in the second half would clearly be enough to tip the Bank into hiking, and we should have enough of that evidence on hand by October."
The central bank last raised rates in September 2010.
The currency was also supported by oil prices which rose amid a weaker U.S. dollar and a survey by Platts, the energy information arm of McGraw-Hill Cos., that crude inventories likely fell by 1.3 million barrels last week while gasoline supplies probably dropped 450,000 barrels. The August crude contract on the New York Mercantile Exchange gained $1.52 to US$97.45 a barrel.
Metal prices also ran ahead with the September copper contract up eight cents to US$4.48 a pound.
Gold prices dipped from Monday's latest record close, down 20 cents to US$1,602.20 an ounce. Nervous investors have pushed gold to a series of record highs recently because of the European debt crisis and inflation worries.
The main point of interest this week will likely be Thursday's meeting of European Union leaders in Brussels. They are due to discuss a second bailout package for Greece, which relies on such lifelines to meet its obligations.
Meanwhile, Spain has been forced to pay sharply higher interest rates in two short-term debt auctions. The Treasury sold euro3.9 billion in 12-month bills Tuesday with the average interest rate jumping to 3.7 per cent from 2.7 per cent in the last such auction June 14.