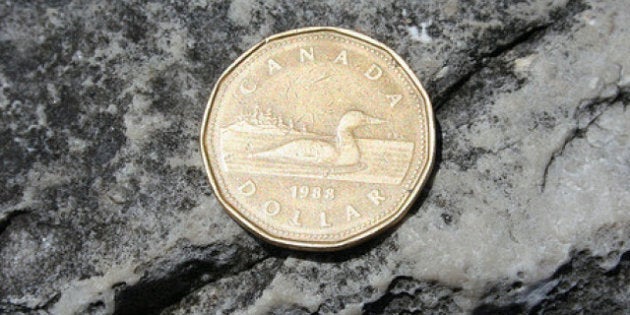 TORONTO - The Canadian dollar surged to a three-and-a-half year high Thursday as the Bank of Canada prepared markets for an eventual hike in interest rates, while nervous investors diversified some holdings into the loonie.
The currency was up 0.31 of a cent to 105.86 cents US after earlier running up as high as 106.11 cents US, its highest level since late November 2007.
The dollar has surged more than 1.66 cents US since Tuesday when the Bank of Canada announced it was leaving its key rate at one per cent, but also set the stage for a resumption in rate hikes, possibly as early as the fall of this year.
Besides that, analysts say the loonie is benefiting from government debt worries in Europe and the U.S.
"As uncertainty in Europe continues to rise and problems in the U.S. remain at the forefront, there is likely increased appetite to diversify holdings away from both U.S. dollar and euro-based assets," said Scotia Capital chief currency strategist Camilla Sutton.
"Small open economies, with strong sovereign positions and flexible foreign exchange regimes, like the Canadian dollar, are in demand. We expect this is a long-term trend and one that will help to support CAD into year-end."
Meanwhile, there was optimism that European leaders are close to dealing with a comprehensive plan to deal with Greece's government debt crisis.
The Dutch finance minister leaked details of a plan that would include private sector involvement and apparently will put in the country in default.
Jan Kees de Jager didn't give full details but said that the banks that hold Greek bonds would be obliged to participate in the plan, a key demand of Germany and the Netherlands. He said banks would be offered a variety of choices, but all would mean they have to bear some of the costs of a new aid package.
Traders have also been looking to American lawmakers to find a way to get the U.S. debt limit raised and avoid a debt default before an Aug. 2 deadline.
Momentum on a separate bipartisan budget plan by the Senate's so-called "Gang of Six" seemed to ebb Wednesday. Critics warned the measure contains larger tax increases than advertised.
Commodity prices were mixed in the wake of data showing that Chinese manufacturing activity fell to a 28-month low in July following repeated rate hikes and other measures to cool an overheated economy. HSBC Corp.'s manufacturing index fell to 47.2 from June's 50.1 on a 100-point scale on which numbers below 50 show activity declining.
The Chinese economy has had a huge appetite for commodities, which in turn have lifted prices for oil and copper and resource stocks on the Toronto stock market.
The September crude contract on the New York Mercantile Exchange shook off early losses to move up $1.21 to US$99.61 a barrel.
The September copper contract on the Nymex was off three cents to US$4.41 a pound.
Gold prices advanced after two days of declines, up $1.60 to US$1,597.90 an ounce.