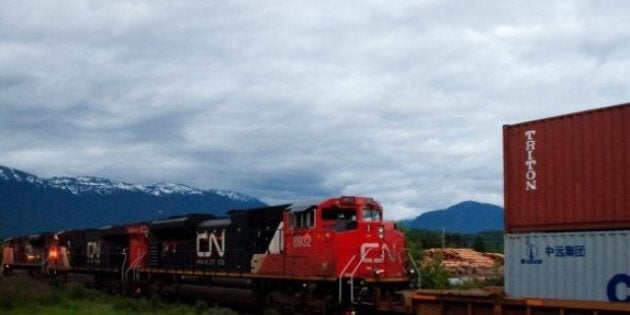 THE CANADIAN PRESS -- TORONTO - Canadian National Railway Co. (TSX:CNR) reported higher net profits Monday as the country's largest freight hauler cashed in on higher revenues and improved traffic to and from West Coast ports.
Canada's biggest railway reported Monday it earned C$538 million or $1.18 a diluted share in the three months ended June 30.
That was up from $534 million or $1.13 a year earlier.
Revenues at Montreal-based CN rose eight per cent to $2.26 billion from just under $2.1 billion.
Meanwhile, carloadings increased four per cent and revenue ton-miles -- a measure of railway operations -- rose five per cent.
"CN delivered a solid second-quarter performance as a result of continued improvements in freight volumes and strong operational execution," president and CEO Claude Mongeau said in a release after stock markets closed Monday.
The latest results included a net deferred income tax expense of $40 million resulting from the enactment of state corporate income tax rate changes and other legislated state tax revisions in the United States, where CN has major operations.
Excluding the net deferred income tax expense, adjusted diluted earnings per share for the quarter rose to $1.26 from $1.13. That was slightly above analyst expectations.
In its earnings release, CN noted the company's operating ratio, a measure of operating efficiency, was 61.3 per cent, in line with the operating ratio of 61.2 per cent for second-quarter of 2010.
"CN railroaders responded quickly and effectively to a series of weather challenges including floods, forest fires and mudslides," Mongeau said. Their tireless efforts and dedication helped to protect the integrity of our network, the reliability of the supply chain we serve and our service to customers."
Mongeau said that all of CN's commodity groups posted revenue gains during the quarter. Intermodal - CN's largest revenue segment - was a bright spot, benefiting from higher import volumes over the ports of Vancouver and Prince Rupert, B.C. and increased domestic retail shipments.
Total intermodal volumes rose 10 per cent and intermodal revenues increased 14 per cent.
CN was expected to earn $1.25 per share on $2.26 billion of revenues in the second quarter, according to analysts polled by Thomson Reuters.
That's up from $1.13 per share on $2.1 billion of revenues a year earlier.
North American railroads were affected by extensive flooding throughout the quarter caused substantial detouring.
However, CN beat its peers with higher average train speeds and reduced time in terminals.
U.S. railroad volumes were up 3.1 per cent, compared to 0.9 per cent for Canadian railways.
Still, CN had the highest volume growth in the industry during the quarter. Overall carloads were up 4.4 per cent from a year ago, while total volumes increased 5.4 per cent.
The improvement was driven by stronger volumes in metals (up 10.8 per cent), intermodal (+9.1 per cent) and agricultural products (+7.8 per cent).
Industry intermodal volumes surpassed 2008 levels at an average of 313,426 units per month in the second quarter, with four of six railroads posting increased volumes.
Agricultural products volumes posted the biggest recovery from a year ago, driven by U.S. railroads. Canadian industry volumes were almost flat, increasing by 1.6 per cent.
Coal volumes decreased by 3.7 per cent overall, with CN volumes falling by 14.7 per cent, partly caused by production and supply chain issues. Volumes are expected to recover in the second half of the year due to strong export markets.
In April, CN boosted its earnings guidance for 2011 after the railway had a solid start to the year amid an expected improvement in the North American economy.
The railway plans to devote $1 billion to improving track infrastructure in 2011 while focusing about $700 million on business expansion and new equipment.
It recently announced plans to build four more extended sidings on its Northern Ontario main line by the end of 2012 at a cost of $20 million.
CN is a leading North American railway with one of the most efficient operations in the industry. It runs the largest rail network in Canada and has the only transcontinental network in North America, servicing ports on the Atlantic, Pacific and Gulf of Mexico coasts.
The railway, a former federal Crown corporation which was privatized in the mid-1990s, employs more than 22,000 workers.
CN reported its results after markets closed. In earlier trading, the railway's shares closed at $75.24, up 32 cents.