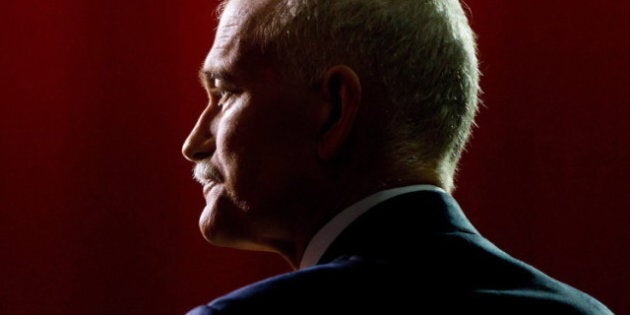 TORONTO - OTTAWA - Only three months after riding Jack Layton's personal popularity to a historic electoral breakthrough, New Democrats are confronting the tragic possibility that they'll have to soldier on without their charismatic leader.
A frail, raspy-voiced Layton, who has been battling prostate cancer and a recent hip fracture, announced Monday that he's been diagnosed with a new form of cancer.
Layton would not reveal what kind of cancer he has or what treatment he is undergoing. But he struck a resolutely optimistic tone, saying he expects to be back in the House of Commons on Sept. 19.
"I'm going to fight this cancer now so I can be back to fight for families when Parliament resumes," he told a surprise news conference in Toronto.
"If I have tried to bring anything to federal politics, it is the idea that hope and optimism should be at their heart," he added.
"I am as hopeful and optimistic about all of this as I was the day I began my political work many years ago. I am hopeful and optimistic about the personal battle that lies before me in the weeks to come. And I am very hopeful and optimistic that our party will continue to move forward."
Privately, NDP insiders were shocked by Layton's appearance and how much he's deteriorated since his last public appearance on July 3. The once trim, athletic leader was gaunt and pale, his voice weak and hoarse.
His Ottawa staffers were informed of the announcement at a meeting 15 minutes before the news conference. Initially, one insider said staffers were pleased to hear that Layton -- who campaigned vigorously with a cane during the spring election just weeks after undergoing hip surgery -- was finally taking time to take care of his health.
But as they watched the televised news conference, the insider said: "You could see hearts sinking in the room because the visual was very hard."
Party president Brian Topp, one of Layton's longtime top advisers who joined the leader and his wife Olivia Chow at the news conference, acknowledged the obvious.
"I think you can see, as I did, that Jack has lost a lot of weight and obviously we're very concerned about him," Topp said.
"It's clear that it's serious, there's no doubt about that."
Still, Topp added: "If you look at what he's accomplished already, I wouldn't bet against Jack Layton. Jack Layton has a habit of taking on tough battles and winning them."
Layton's health is a paramount concern for the leader's tight-knit inner circle, who refer to him familiarly as "Jack" and regard him as a close friend. But there's a political dimension to their worry as well.
For the May 2 election, the party had rebranded itself as "Jack Layton's NDP," cashing in on the leader's personal popularity. His cheerful, moustachioed visage was plastered on every NDP campaign poster; he was front and centre in every ad.
The party soared to a second place finish with 103 seats, becoming the official Opposition for the first time in its 50 year history.
"Smiling Jack's" personal appeal was particularly strong in Quebec, which delivered 58 of its 75 seats to the NDP.
The party has set its sights on replacing Stephen Harper's Conservatives as government in the next election. But if Layton is not at the helm, it may have trouble hanging on to the gains made in the last election.
"He's certainly the New Democratic Party's most charismatic asset," said Ian Capstick, a former press aide to Layton.
Prior to Layton, Ed Broadbent was the NDP's most popular and successful leader, taking the party to 43 seats in 1988. When he retired, the party collapsed, falling to nine seats in 1993 under the leadership of Audrey McLaughlin.
Capstick argued the party won't backslide again when Layton exits the leadership, whenever that should happen. He said Layton has devoted himself to building a "modern political machine" with solid finances and a strong organization, and that will outlast his leadership.
"All is not lost without him because of the building that he's done," Capstick said.
There is, however, no potential successor on the horizon who can come close to Layton for sheer likeability. In opting to recommend Turmel as interim leader, Layton seemed intent on ensuring that leadership jockeying doesn't start prematurely rending his newly enlarged, Quebec-heavy caucus.
He did not choose deputy leader Thomas Mulcair or other prominent MPs, such as Paul Dewar or Libby Davies, who are likely to be leadership contenders. Turmel is a neutral choice and someone likely to have the support of caucus, which has already unanimously chosen her as caucus chair.
Caucus is to be consulted about the choice of interim leader on Wednesday, with the party's federal council making a final decision by mid-afternoon Thursday.
While Layton insisted he'll be back on the job Sept. 19, Topp said the party will give him as much time as he needs to recover.
Layton revealed Monday that he "suffered from some stiffness and pain" during the closing days of the spring parliamentary session in late June. Once Parliament broke for the summer, he underwent a battery of tests at Toronto's Princess Margaret Hospital and was informed last week that he has a new form of cancer.
Topp said Layton was in hospital last week for a period of time but is now at home. He defended the lack of transparency about the leader's health, arguing that Layton is entitled to maintain privacy about his personal health.
As recently as last week, party officials insisted Layton hadn't been seen in public lately because he was simply on vacation and that there were, in the words of one, "no health issues to report."
Princess Margaret released a statement saying only that "recently, new tumours were discovered which appear to be unrelated to the original cancer and Mr. Layton is now being treated for this cancer."
Good wishes for a speedy recovery instantly poured in to the NDP's website and over social media. Prime Minister Stephen Harper issued a statement, saying he's "deeply saddened" to learn of Layton's latest illness.
"I salute the courage Mr. Layton continues to show in his fight against cancer, a fight that more and more Canadians are winning.
We are all heartened by Jack's strength and tireless determination, which with Mr. Layton will never be in short supply," Harper said.
Liberal Leader Bob Rae also lauded Layton's courage.
"We know that Jack is an incredibly resilient man who does not give up a fight. During the last election, he showed an incredible courage in the face of health challenges."
Layton tweeted a characteristically hopeful message later Monday, thanking Canadians for their outpouring of good wishes.
"Your support and well wishes are so appreciated. Thank you. I will fight this -- and beat it."