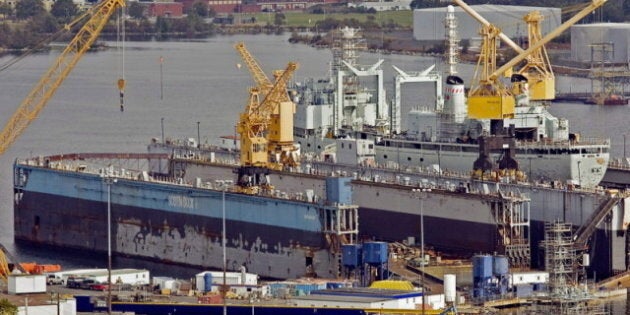 THE CANADIAN PRESS -- NORTH VANCOUVER, B.C. - The B.C. government added shipbuilding to the list of industries its prepared to subsidize Monday.
Pat Bell, minister of jobs, tourism and innovation, announced the government will provide $35 million in training and labour tax credits, if North Vancouver's Seaspan Shipyards wins a lucrative federal contact to build navy ships and coast guard vessels.
"We have provided tax credits to the film industry that are very similar to what we have announced today," said Bell, following a news conference.
"We've had incentives in the oil and gas industry, as well. We just actually announced some innovative clean-energy funds I believe yesterday. So we have a variety of incentives."
Under the announcement, B.C. will also provide $5 million to support the productivity and long-term viability of the broader marine sector.
And BC Ferries is pledging $20 million to improve the capacity of the province's ship-repair and maintenance industry.
Bell said B.C.'s commitment is important because as part of the procurement process, the federal government will examine what kind of support exists for the shipbuilding industry.
He said training helps provide for that future.
Last week marked the closing date for bids on $35 billion in federal shipbuilding contracts. The first contract, worth about $20 billion, is for 20 large navy warships. The second contract is worth about $8 billion and is for coast guard vessels and supply ships.
The federal government will also spend about $2 billion on other small crafts and repairs.
Irving Shipbuilding Inc., which owns Halifax Shipyard in Nova Scotia, has confirmed it has submitted a bid.
The Davie Yards in Levis, Que., is still waiting to find out whether it can enter the competition.
The shipbuilder has been in creditor protection since February 2010. But the firm's money woes didn't keep the federal government from naming Davie one of five companies on a short list for the shipbuilding jobs.
Seaway Marine and Industrial of St. Catharines, Ont., was expected to bid on the contract, but did not.
A spokesman for the Nova Scotia government has said the province has committed to invest in infrastructure and training. The details will be announced should Irving win one of the two available contracts.
A spokesman for the Quebec government did not return a call asking for information.
Jonathan Whitworth, Seaspan's chief executive officer, said the bid process took six to 12 months. He said the company's submission was 22,000 pages and weighed 337 kilograms.
"The government stood behind us throughout the entire process and today's announcement, this wonderful announcement of tax credits for apprentice training programs, is just a very, very crystallized example of such great support," he said.
Whitworth said if his shipyard wins the contract, the province will see an economic impact of about $15 billion.
"That's like winning the Winter Olympics every two to three years," he said.
Seaspan is prepared to spend between $160 million and $190 million on infrastructure in North Vancouver and Victoria to ensure its workers have the proper buildings, technology and equipment to do the job, added Whitworth.
He said at its peak, the contract could create 8,500 direct and indirect jobs.
"There's not a lot of projects in this province, or I dare say, in the country, that can create that many jobs and its on our doorstep."
George MacPherson, president of the Marine Workers & Boilermakers Industrial Union, said his industry has faced a "long road" back since the provincial government decided to build its most recent ferries in Germany, not B.C.
"It's satisfying to me that they've finally come back on side, and they see some value in the industry, and they're putting some confidence back into what we do," he said.