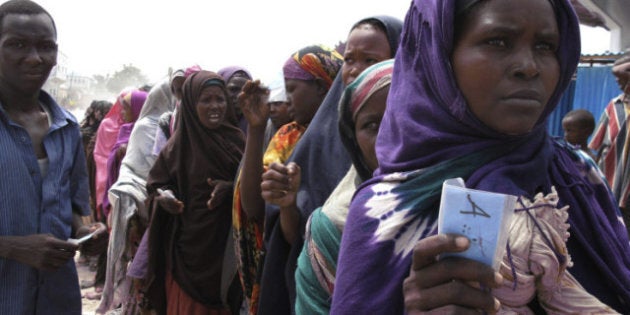 ROME - A U.N. food agency says there will be a donors pledging conference Wednesday in Nairobi to raise as much as $1.6 billion to help fight famine in Somalia and other drought-stricken populations in East Africa.
The announcement came at an emergency meeting at the Food and Agriculture Organization headquarters in Rome Monday on the latest food crisis in the Horn of Africa.
Also trying to do their part are private sector companies. A former CEO of TNT, Peter Bakker, told The Associated Press that he will be on the phone later Monday calling top executives of food production and transport companies to see what may be able to contribute to help the United Nations speed food to starving people.
The Canadian government is giving $50 million towards famine relief efforts in the Horn of Africa.
Ottawa will also be matching any donations Canadians make individually to help the estimated 11 million people suffering the effects of long-term drought in the region.
The United Nations officially declared a famine in parts of Somalia earlier this week and launched an emergency appeal for aid.
Thousands of refugees have fled ongoing violence and drought in Somalia and are pouring into refugee camps in neighbouring Ethiopia and Kenya.