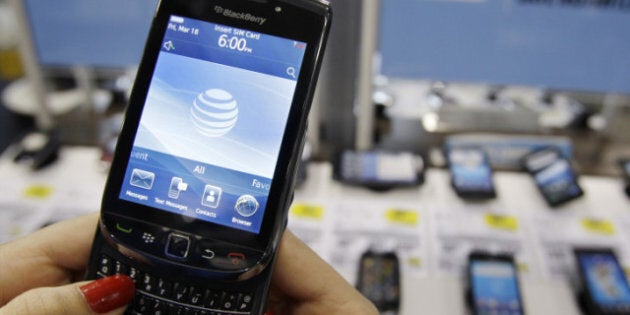 Engineering students are by nature a practical bunch. So when Research In Motion Ltd., the biggest tech company in the country, announced yesterday that it will deliver pink slips to 2,000 employees worldwide, the mood on nearby campuses was hardly one of shock.
"We've all kind of seen this coming for the last couple of years," says Matthew McPherrin, a fourth-year computer science student at the University of Waterloo. "If you talk to anyone, it's not a surprise that it's happening. A lot of my peers are saying 'I'm surprised this didn't happen a year ago.'"
Still, McPherrin concedes there is concern among his classmates about what, exactly, the fallout will be.
"There are perceptions that the job market in Waterloo is going to be saturated if RIM people start leaving," he says, pointing to the size of the company's roster, which totals 9,000 in the region and 17,500 worldwide. "They're kind of the elephant next door."
McPherrin's sentiments are a sign that RIM's role in Canada's high-tech sector is undergoing rapid change. Where the company was once seen as a coveted employer, its lacklustre performance in recent months, which has seen investors lose confidence and its stock price take a dive, appears to be chipping away at its status as a sure bet for students and recent grads.
As McPherrin well knows, the fate of RIM -- a rare high-tech elephant in a country of mice -- stands to significantly alter the Canadian tech sector ecosystem. So large is the company's imprint that a prolonged downturn could potentially have implications for recent graduates, their academic institutions -- and, by extension, Canada's ability to retain homegrown talent.
To say that RIM is a common destination for recent graduates is an understatement. Since its founding in 1984, the Waterloo Ont.-based company has become the largest private co-op and internship employer in the country, soaking up more than 300 students every four months. The promise of a permanent job is a centrepiece of RIM's recruitment strategy.
"While our student programs provide you with the opportunity to do meaningful work while earning your degree, one of the main benefits of participating is getting a foot in the door and potentially returning for full-time employment upon graduation," the company explains on its website. "The connections you'll make, the insight you'll gain and the involvement you'll have all pave the way for ongoing success."
But that image of a company fostering young talent is taking a beating. In a written response to The Huffington Post Canada, one University of Waterloo student who has done several co-op placements with RIM said that "there is little chance of gaining a full-time position after my graduation unless the company picks up again."
In theory, continued downsizing at RIM stands to have the most profound impact on the University of Waterloo, the alma mater of co-founder and CEO Mike Lazaridis and arguably the biggest academic beneficiary of the company's success.
"There are a large number of projects at the university that are funded by RIM," says McPherrin, citing the $160-million Mike and Ophelia Lazaridis Quantum-Nano Centre as a recent example. "Projects like that wouldn't have happened had [Lazaridis] not decided to fund it. It probably wouldn't happen today."
RIM did not immediately respond to our request for an interview, but university officials and local politicians were quick to dismiss the notion that the cuts are a harbinger of things to come.
"RIM is a big, debt-free global company," says Ellen Rethore, associate vice-president of communications and public affairs and the University of Waterloo. "They will continue to invest in R&D in highest growth opportunities. Given the relationship and quality of graduates and quality of research, we fully expect they'll continue to reach out to us for our expertise."
Following the previous announcement that RIM would be downsizing, Rethore says the company assured the university that there would be no changes to co-op programs.
Even if there are more significant cuts at RIM, it would seem that there are plenty of other options for would-be RIM employees. While liberal arts graduates may still be having a tough time landing jobs (in June, unemployment for 20-to 24-year-olds was 11 per cent -- the same as it was 12 months ago), the picture is much more rosy for those with technology credentials.
As Waterloo mayor Brenda Halloran points out, there are some 800 tech companies in the region, including major players like OpenText Corp. and Christie Digital Systems. "There's a feeling that RIM is the only employer in this community, [but] they're one of many large employers," she said. "We still have over 1,000 jobs going vacant in the high-tech sector."
McPherrin concurs. "RIM is definitely a large hirer but by no means has an exclusive grasp on the grads," he says.
But if RIM continues to lose steam, he doesn't foresee his classmates staying nearby.
"There's a large number of Waterloo grads who go on to work in Toronto or Silicon Valley, so there's still enough other gateways open that I think it'll be OK in the long run."
Whether the same can be said of the company and community they leave behind, however, remains to be seen.