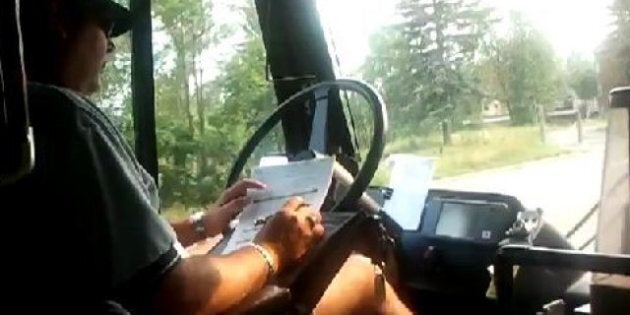 The video, which was posted July 18, has gotten more than 14,000 views and allegedly shows the driver filling out a form and driving while traffic can be seen outside his window.
The Société de transport de l'Outaouais, which runs the bus service in Gatineau will investigate the driver's behaviour, the CBC reported.
"We take it very seriously because it's an unsafe action from the driver," said Dominique Leclerc, a spokesperson for the STO to CTV. "He's supposed to be concentrated on the road, not on some paper."
This isn't the first time, a Canadian public transit employee has been caught on video driving while distracted. Last year a bus driver in Toronto was photographed texting while driving. The incident raised concern from the public and calls for the TTC to crack down on unsafe driving.