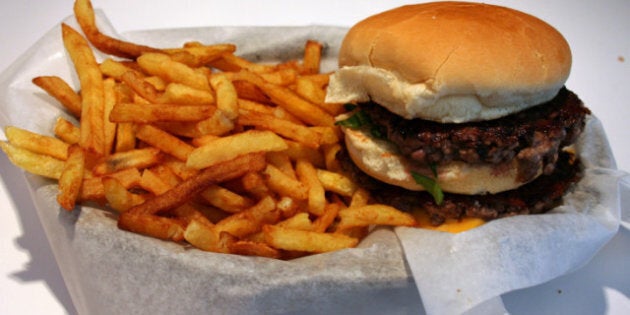 If you think gourmet hamburgers are divine, you'll want to meet theologian-turned-Toronto-restaurateur Shant Mardirosian, who prepares his burgers with the Almighty in mind.
"I have a responsibility as a Christian to put out a product that I would be proud to serve to God if He were here," says Mardirosian, owner of The Burger's Priest, a charming hole in the wall nestled in Toronto's east end.
His is one of a number of gourmet burger shops to sprout up in Canada in recent years, from mom-and-pop joints to national franchises like Hero Certified Burgers, the Gourmet Burger Co., and Red Robin Gourmet Burgers — all of which hope to capitalize on a growing consumer demand for guilt-free fast food and high-quality, local ingredients.
But the definition of "gourmet burger" is as varied as the restaurants peddling them.
Who serves Canada's best burger? Where can you find it? Tell us in the comments or tweet us your answer @HuffPostCanada with the hash tag #bestburger. We'll compile and post your replies.
Mardiorosian preaches the gospel of simple American burger making. He thinks Canadians are in dire need of conversion, having grown up on a diet of poor-quality, over-processed patties cooked from frozen and charbroiled.
"In my opinion, the perfect burger is cooked on a flat-top griddle, the beef should have a higher than normal fat content, cooked to medium, put on a soft, simple bun with very simple toppings and processed cheese," says Mardirosian, who grew up in Los Angeles, where he refined his palate.
"Once you start adding blue cheese or organic toppings, that's not a burger. It's a beef sandwich."
"Everyone here missed the mark in the sense that they weren't doing historic California cheeseburgers – they were doing a Canadian version: big patty, big bun, making it 'gourmet' with toppings like avocado. Sure it tastes great, but it's not a historic burger."
Jim Romer of Romer's Burger Bar in Vancouver takes a broader view of what works on a burger, noting the definition of "gourmet" should be limited only by one's imagination.
"One of our more successful ones is the ahi tuna burger with edamame guacamole. The sky is the limit but you have to work whatever the ingredient is in with the context of each burger," says Romer, whose restaurant boasts all natural ingredients and freshly ground beef sourced daily from heritage farms in northern B.C.
Mardirosian, a graduate of Toronto's Tyndale College and Seminary, had his mind set on ministry before a "Road to Damascus" moment in the summer of 2006 during a vacation in New York City.
"I had a burger at a place called P.J. Clarkes and it was something different than anything I'd even had in California. So I moved to New York City to learn how to make a New York burger and pair it with what I knew growing up in California," he says.
After about a year studying butchering, grinding and cooking techniques from various restaurants, he returned to Toronto and bought a small shop located between a Harvey's and a KFC.
Mardirosian's shop is overtly religious: it features hymn boards as menus and a website that actively promotes Christianity with links to religious debates. He also closes on Sundays for church. A guest who orders a "Vatican Style" burger, based on a secret menu for regulars, gets served two grilled cheese sandwiches for buns.
But Mardirosian insists the food and atmosphere is agnostic, even if he's not.
"I just try to run my business in the most honest, biblically-based way," he says.
Another unorthodox aspect of his restaurant is his choice of condiments, or lack thereof. Banished to purgatory is relish, which Mardirosian says should never touch a burger.
"Historically, relish is not a condiment – in New York City you don't even put mustard on a burger. In New Haven, Conn., all you'll get is charred onion and tomato. In California they put on mustard, but when I first opened I didn't even have mustard. Now I have relish as an option – but for $500 an ounce," he said with a laugh.
One can only imagine what Mardirosian would make of the burger served by Dan Joseph, owner of Halifax's Darrell's Restaurant, which won The Coast magazine's "Best Burger Award" for the past nine years for its "Peanut Butter Burger."
"It was an experiment gone right," he says of the huge burger patty covered in peanut butter that sticks to the roof of your mouth. "You don't know if people are going to like it unless you try it. That's why we have a new burger with a fried egg and guacamole on it – the Hen'Den Burger."
The only thing Joseph refuses to put on a burger? "Frog's legs," he says.
"We're always experimenting and trying to find something that competes with the Peanut Butter Burger, but it destroys all other burgers we sell. I have a standing proposition to my kitchen manager for a check for $3,000 if he could outsell the Peanut Butter Burger for three months – it's a tough one to beat."
In a sense, Canada's taste for gourmet burgers is as complex as its religious beliefs. Some chefs are strictly orthodox in their choice of toppings and recipe. Others are more liberal-minded, willing to experiment with radical ideas until miracles are born.
"The burger is omnipotent and irresistible," says Mardirosian. "It's the most single powerful force in the food universe."