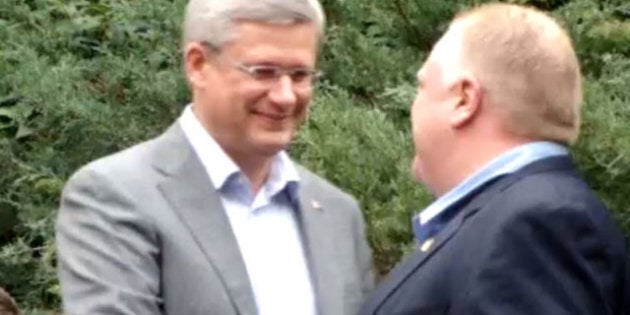 Toronto mayor Rob Ford got a boost from his federal Conservative counterparts at a recent barbecue held for Finance MInister Jim Flaherty.
The barbecue, which was held on Tuesday night at Rob Ford's Etobicoke house, hosted some 700 Conservative volunteers and supporters. Prime Minister Stephen Harper was a surprise guest and joked that the mayor was his new fishing buddy.
Harper also had words of praise for Ford and his family. Calling the family a "Conservative political dynasty."
He also tried to get Tory supporters to think forward to this fall's provincial election.
"We started cleaning up the left-wing mess federally in this area, Rob is doing it municipally and we got to complete the hat trick and do it provincially as well," Harper said to cheers and applause from the crowd.
The evening had another light-hearted moment when the Fords presented Flaherty with a novelty "World Finance Minister Championship Belt."