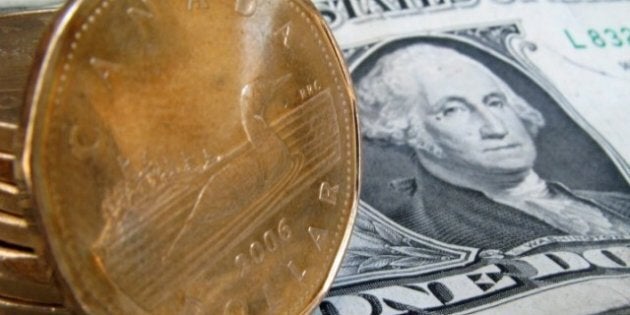 TORONTO - The Canadian dollar tumbled almost two U.S. cents Thursday while the American dollar strengthened following a move by the Bank of Japan to control the rise of the yen.
The loonie also felt the pinch of big losses on equity markets, falling 1.8 cents to 102.09 cents US.
The Bank of Japan intervened by selling the yen and buying the U.S. dollar. Japanese Finance Minister Yoshihiko Noda said financial authorities decided to step into currency markets because the strong yen could hurt the country's export-dependent economy. It could also slow its efforts to recover from the March 11 earthquake and tsunami.
The Canadian dollar got caught up in the downdraft from sharply lower equity markets, which tumbled on rising pessimism about slowing economic conditions. The S&P/TSX composite index tumbled 435.9 points at 12,380.13.
Just a couple of weeks ago, investors were concerned the U.S. economy had hit a soft patch. Since then a raft of economic data on manufacturing, consumer spending and hiring by private companies have raised worries about the economy slipping back into recession.
And there are worries that Friday's release of the report on U.S. job creation for July will fail to meet already modest expectations of well under 100,000 jobs.
The Canadian dollar was also weighed by commodity prices which tumbled on demand concerns. The September crude contract on the New York Mercantile Exchange lost $5.30 to US$86.63 a barrel. Copper lost nine cents to US$4.24 a pound.
Gold prices backed off after investors, looking for a safe haven while fleeing risky assets such as shaky European government bonds, pushed bullion to a series of record highs recently. But on Thursday, the December contract in New York declined $7.30 to US$1,659 an ounce.
The Japanese move followed action by the Swiss National Bank on Wednesday to cut its main interest rate to zero to 0.25 per cent from zero to 0.75 per cent to halt a sharp rise in the franc. The bank warned that the recent appreciation of the currency has dented the economy's prospects.
The Swiss franc has also been heavily in demand in recent weeks through its status as a safe place for investors to park their cash. Investors have grown increasingly risk-averse amid concerns over government debt crises.
Meanwhile, the Bank of England has left its key rate on hold at 0.5 per cent for the 29th straight month as concerns over Britain's sluggish economic recovery outweighed inflation concerns.
And the European Central Bank left its key interest rate unchanged at 1.5 per cent.