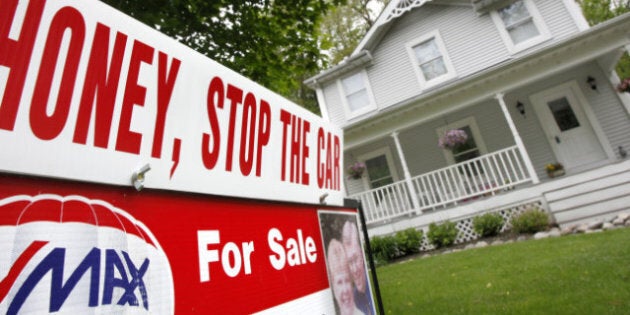 If the mortgage meltdown that nearly laid waste to the global economy a few years ago taught us anything, it's that you should never base your decision to buy a home on cheap rates.
But if you have to get a mortgage, there may no better time to sign on the dotted line -- at least if you live in Canada.
Despite widespread speculation that, by now, world markets would be chugging along and inexpensive borrowing costs would be a distant memory, economic uncertainty is once again prompting investors to seek refuge in government debt, including Canadian bonds. That could push mortgage rates to historic lows.
Quite simply, says Canadian Mortgage Trends editor Robert McLister, "Now is literally one of the best times in history to get a mortgage."
As McLister explains, the rates for five-year fixed mortgages, the most popular mortgage term in Canada, are closely tied to five-year Canadian bond yields. When investors flood these uber-safe assets, as they've done in recent weeks, the rate of return (otherwise known as the yield) falls through the floor.
When markets opened Monday, Canadian five-year bond yields had dipped to 1.69 per cent -- just a few tenths above January 2009, when yields sunk to 1.53 per cent.
"We are approaching credit crisis lows here, and that's basically the bond market saying there's a lot of risks to the economy. It's saying that there's not a lot of inflation on the horizon, and inflation is the biggest factor for guiding interest rates," says McLister.
Though fixed mortgage rates have yet to reflect the drop in bond yields, McLister says there's good reason to expect that a significant adjustment could be coming soon.
"At the moment, banks are hesitant to cut advertised fixed mortgage rates until they sense that yields have stabilized," says McLister, who published a post about why banks have yet to significantly cut mortgage rates on his blog Monday morning. "[But] barring a dramatic rebound in yields, fixed rates will come down further."
A drop in mortgage rates would represent a significant change in direction following months of speculation that rates were headed for a hike. Though the Bank of Canada decided in July to once again hold its benchmark overnight rate at 1 per cent, The Globe and Mail reported at the time that "[m]ost economists see the overnight rate climbing by 75 or 100 basis points in the next year, which would bring it to 1.75 per cent or 2 per cent."
But no matter how the current trend shakes out, it's a mistake to get too comfortable with low rates.
As McLister points out, the sudden reversal is a testament to how quickly the circumstances can change.
"No one foresaw a couple of years ago that rates would potentially be making new lows [today], and that just speaks to how difficult it is to actually time the mortgage market -- how hard it is to predict rates," he says. "Anything can happen."