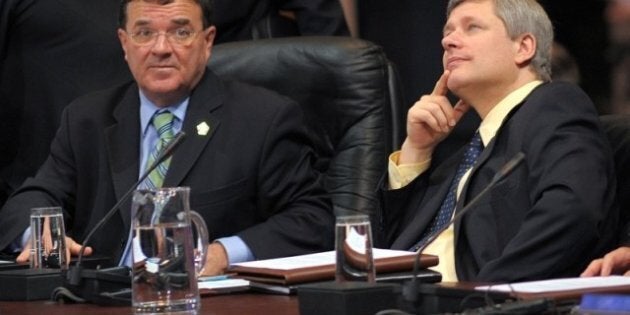 With debt crises in the United States and Europe threatening to send a still-shaky world economy teetering over the edge, Canada's finances have rarely looked so good.
Despite racking up a hefty federal budget deficit of $36.2 billion last year, or about 3 per cent of GDP, Finance Minister Jim Flaherty's plan to get back to balance by 2015 — which includes an estimated $4 billion in annual spending cuts — has made Canada the poster child for fiscal responsibility.
But as global economic uncertainty once again reaches a fever pitch, how much austerity is too much?
According to Andrew Jackson, chief economist for the Canadian Labour Congress, the belt-tightening underway in Canada is more extreme than in most other industrialized nations.
"The spending cuts are a bit deeper in the U.K. and Spain, but certainly we're at the tough end of the spectrum, even though our fiscal situation...is much healthier," says Jackson. "In my mind, it sort of begs the question: What is the need to reduce the deficit even more rapidly than elsewhere?"
Pointing to a recent IMF report, which shows that the "fiscal adjustment" underway in Canada is occurring more quickly than in the majority of advanced economies, Jackson raises doubts about the benefits of pursuing cuts that will affect everything from public sector jobs to government programs, particularly at a time of widespread economic unrest.
"If the overall aim is to shrink deficits and debts as a share of the economy, if we're shrinking the economy at the same time, it hardly makes it easier, so it's a really contradictory picture," Jackson says. "Spending cuts could well make the real economic situation even worse."
But as McGill University economist Chris Ragan points, government restraint is not the factor contributing to Canada's rapid fiscal adjustment.
"Our deficit may be closing, but part of that may be that the recovery is faster," says Ragan, who holds the C.D. Howe Institute David Dodge Chair in Monetary Policy. "If you look at government cuts, it doesn't appear to me that it is significantly faster, if faster at all, than anybody else."
Though Ragan acknowledges that government cuts, no matter how small, are never painless, he says that "there's a very good case to be made for what Canada is doing."
"Canada does have some fiscal challenges in its future...which is largely about the aging population and rising health care and age-related spending," he says. "That is a big challenge, and I think you could make a very compelling argument for why we should put that debt-to-GDP ratio back on a downward sloping path."
As TD Bank economist Sonya Gulati told The Wall Street Journal, the current unrest might prompt Flaherty to revise his deficit-slashing strategy when he delivers an update on Canada's fiscal outlook in the fall.
"The speed at which the deficit is brought down is key. If you want to bring down the deficit at a time when you are experiencing a fragile economy, you don't want to cut too fast," Gulati said. "I can't say for sure the government will change its timetable. But it is well positioned to do so if it needed."