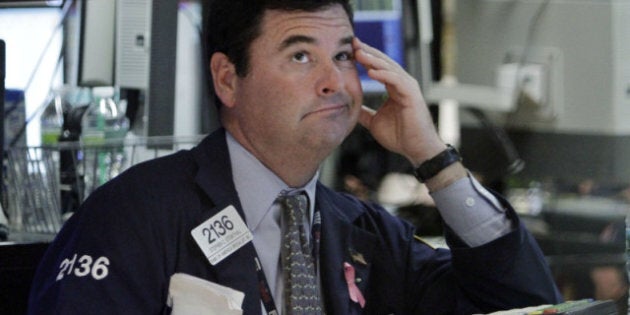 UPDATE: Toronto's S&P/TSX composite index bucked the trend south of the border and ended the day higher, finishing up nearly 90 points over Tuesday's close, at 12,198.9. That's a stark contrast to the Dow Jones Industrial Average, which plummeted nearly 520 points for the day, marking yet another rout on the U.S.'s largest stock market.
The Canadian dollar, meanwhile, dropped more than a cent, moving to just short of U.S. dollar parity, to $1.006 U.S.
Gold reached another record high Wednesday, trading at $1,702 U.S. at 4 p.m. ET.
NEW YORK, N.Y. - Stocks plunged again Wednesday as investors turned their attention back to the weak economy and Europe's debt problems. More than half of the big gains that followed a Federal Reserve pledge to extend super-low interest rates vanished.
The Dow Jones industrial average fell 232 points, or 2.1 per cent, to 11,007 in afternoon trading. The average plummeted more than 300 points within minutes of the opening bell and was down as many as 468 points by late morning.
On Tuesday, the Dow gained 429 points after the Fed said it planned to keep interest rates extremely low at least through the middle of 2013. It was the first time the Fed announced such a timetable. But the day's gains were likely just a blip caused by computerized trading based on programs that dictate when to buy or sell, some investors and analysts said.
The rally was "so unbelievably fast, it's as though every computer on Wall Street hit the point where the program said 'buy, buy, buy, buy, buy'," said Daniel Alpert, managing partner of investment bank Westwood Capital. "Machines don't read Fed announcements, people do — and they were reacting in a negative way."
That was more evident Wednesday, as investors focused on the Fed's pessimistic assessment of the economy: The central bank expects it to stay weak for at least two more years.
"Now it gets back to the fundamentals" of the economy, said Mark Lamkin, founder of Lamkin Wealth Management, which manages $250 million.
The Standard & Poor's 500 fell 13 points, or 1.1 per cent, to 1,160. The Nasdaq fell 24, or 1 per cent, to 2,458.
Gold rose above $1,800 per ounce for the first time as money poured into investments considered safe at a volatile time for the financial markets. Gold was up $41.70 per ounce to $1,784.90 in afternoon trading after earlier climbing as high as $1,801.
The 10-year Treasury note, which has also served as a haven, also rose sharply. Its yield fell to 2.20 per cent from 2.26 per cent late Tuesday. It had reached a record low of 2.03 per cent on Tuesday. A bond's yield falls when its price rises.
Investors have bought U.S. government debt even after S&P stripped the United States of its top credit rating, AAA, late last week.
On top of concerns about the U.S. economy, attention is still on Europe, where investors worry that Italy and Spain may be the next countries unable to repay their debts.
The European financial system has been battered by fears about banks' holdings of bonds issued by heavily-indebted countries, such as Greece and Portugal. This week, those concerns have evolved into fears about banks' exposure to other banks, analysts say. Societe Generale, France's second largest bank, was down more than 20 per cent at one point.
"It's the same game of Old Maid playing out in Europe that was played out here during the subprime mortgage crisis," said Quincy Krosby, an economist and market strategist with Prudential financial. As the contagion hits ever-larger countries, such as France, "the ramifications for the banks are more detrimental," Krosby said.
In Asia, the concern is that higher inflation in China could lead to slower growth. China, Brazil and other less-developed countries have provided the strongest economic growth since the world began to recover from recession in 2009.
Financial stocks led the U.S. market lower. Bank of New York Mellon Corp. fell 6.8 per cent after it said it will cut 1,500 jobs, or about 3 per cent of its global work force, to lower costs. As a group, financial stocks in the S&P 500 fell 5.4 per cent, the biggest decline of the 10 industries that make up the index.
One big reason: investors don't know how exposed U.S. banks are to the European financial system, via their ownership of debt of European countries and banks, Krosby said. From a trader's perspective, "at the end of the day, if there's one cockroach, there's a million," she said.
Europe accounts for about 17 per cent of JPMorgan Chase & Co.'s revenue and 21 per cent of its assets, the bank's CEO Jamie Dimon told CNBC. Its stock is down 2.2 per cent. Dimon also said he expected leaders in Europe to resolve the debt crisis without harm to the bank's investments.
Stocks have dropped so much that six companies have withdrawn plans to sell their stocks this week on U.S. markets for the first time, according to Dealogic. That brings the total number of withdrawn initial public offers, or IPOs, to 65 so far this year. That's the most through Aug. 10 for any year since 2001.
On Tuesday, the Dow swung 600 points in the final 90 minutes of trading, from a 205-point decline to the 429 point gain, after the Fed announcement, which also said the central bank was considering "policy tools" to help the economy. It was the Dow's 10th-best point gain.
But on Tuesday the central bank acknowledged that the temporary factors it has said slowed growth — like high gas prices and disruption to manufacturers following Japan's March earthquake —were only part of the reason that the economy grew at its slowest pace in the first half of this year since the recession ended in June 2009.
The statement "was essentially a full admission that the Fed had not fully gotten their arms around the permanence to the weak trends in the economy," William O'Donnell, head of U.S. Treasury strategy at RBS Securities, wrote in a report.
Economists have become more pessimistic about the U.S. recovery in the last month. Manufacturing is barely growing, people are spending less, and the job market isn't expanding fast enough to significantly bring down unemployment.
Concerns about the global economy have overshadowed strong corporate earnings. On Wednesday, the parent of Macy's and Bloomingdale's said profits were 64 per cent higher than a year ago because of strong sales. Quarterly profit was up 52 per cent at Polo Ralph Lauren Corp.
Cree Inc., a maker of products used in light-emitting diodes, or LEDs, rose 14.9 per cent after it reported earnings late Tuesday that were better than analysts expected.
And the Walt Disney Co. said late Tuesday that profit rose 11 per cent last quarter. Stronger revenue from its ESPN sports television network and theme parks made up for lacklustre box-office results. Its stock fell 9.6 per cent.