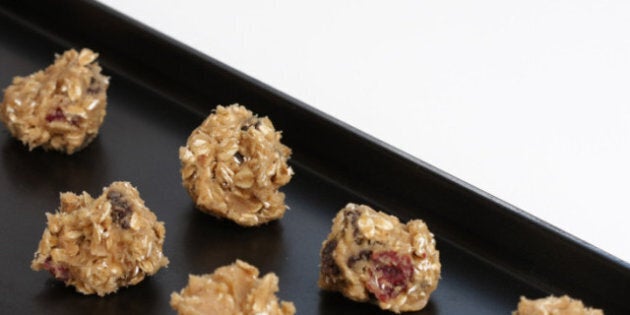 Oatmeal raisin cookies are probably one of North America's favourite comfort foods -- along with apple pie and ice cream. Unfortunately, most cookies bought at the grocery store are loaded with trans fats and include far too many ingredients.
This cookie recipe is easy to make, creates chewy cookies and is even great for hard-to-please kids. They're perfect as a packable snack to beat that daily 3 p.m. snack craving.
Just a reminder about oats (which are an ingredient in this dish): it's best to soak them before eating them for optimal digestion, so don't forget to do that before whipping up these cookies.
10 soft dates, seeds removed
Soak oats overnight completely submerged in water. Drain water from oats and pat dry. Place oats in a food processor with an "S" blade and process until ground up. Remove the oats and add all the nuts into the food processor and grind until coarsely ground. Add the oats back to the food processor and combine with the nuts. Add the remaining ingredients slowly and process until they form a sticky texture, similar to a cookie dough. Take a spoonful, roll into a ball and then flatten into a cookie shape. Place in fridge and enjoy!
Joy McCarthy, Registered Holistic Nutritionist and Health Coach of Joyous Health, loves to inspire others to eat well and live well. She is the co-creator of Eat Well Feel Well, a holistic nutrition and yoga program in Toronto.
Please note: All of these recipes are created in my joyous kitchen with the healthiest ingredients. I'm not a calorie counter or a professional chef, I'm a nutritionist who loves to cook and bake and I'm delighted to share my creations with you.