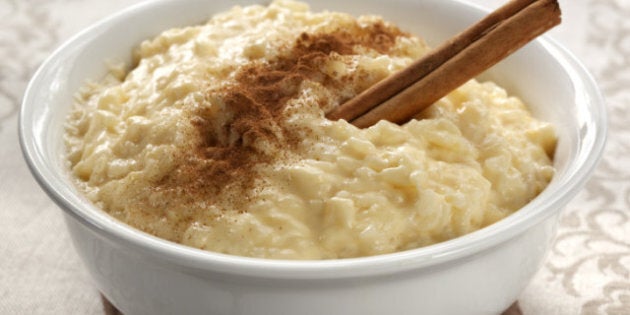 Rice pudding is one of the most delicious desserts (if you haven't tried it, what are you waiting for!?). The only problem is most recipes built around this sweet stuff contain a ton of fat and calories.
Which is where this recipe revamp comes in. Here is one way you can make this dish a little healthier -- without losing any flavour.
Some other tips to consider when whipping something up in the kitchen?
2-1/2 cups of almond or any nut milk
1/2 tsp pure vanilla extract
1 tbsp organic coconut oil
Combine the nut milk, quinoa, raisins, maple syrup and cinnamon in a medium pot. Cover the pot and bring to a boil. Immediately, reduce it to a simmer (very low heat), stirring every so often until the quinoa is tender (about five to seven minutes).
Whisk the eggs, adding vanilla. Slowly add the quinoa mixture to the eggs, about one teaspoon at a time -- whisking between each addition. (This will ensure the eggs don't overcook as you add the quinoa mixture.)
Continue to cook until the mixture thickens (about five more minutes). Stir in the coconut oil, remove from heat and serve immediately.
Joy McCarthy, registered holistic nutritionist and health coach of Joyous Health, loves to inspire others to eat well and live well. She's also co-creator of Eat Well Feel Well, a six-week nutrition and yoga course in Toronto. Joy welcomes your questions or comments.
Please note: All of these recipes are created in my joyous kitchen with the healthiest ingredients. I'm not a calorie counter or a professional chef -- I'm a nutritionist who loves to cook and bake, and I'm delighted to share my creations with you.