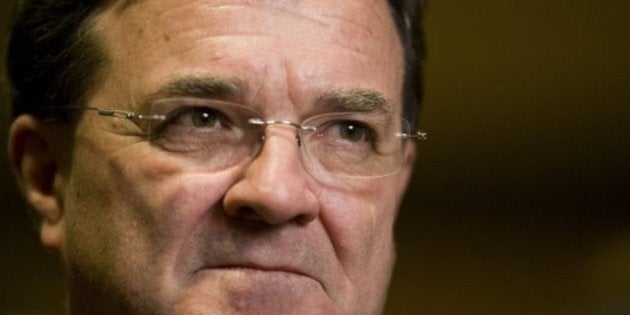 OTTAWA - Canada's finance minister and head of the central bank will update MPs this week on the state of the economy as global financial turmoil continues to take a toll on Canadian and European stock markets.
Finance Minister Jim Flaherty is slated to appear before the Commons finance committee Friday to talk about the economy as fears mount that the market turmoil and slumping American economy will squeeze the Canadian economy and undermine the government's deficit fighting plan.
Flaherty will be followed by Bank of Canada governor Mark Carney and Bank of Canada senior deputy governor Tiff Macklem.
On Tuesday, the Toronto stock market slid to a triple digit loss, ending a recent rally as investors continued to worry about the state of Europe's debt crisis and an economy that is at a virtual standstill.
European markets were also sluggish as traders digested news that Germany's economy had ground to a halt in the second quarter, in another downbeat note for the global recovery.
Markets have climbed and tumbled for nearly two weeks after an agency downgraded the credit rating of the United States and fears worsened about a possible second U.S. recession.
CIBC chief economist Avery Shenfeld said the minister may face questions about how a weaker economic outlook may impact budget estimates, but noted it's too early to tell, especially in the face the recent job growth.
"Flaherty has been playing a balancing act between trying to maintain confidence while acknowledging troubles abroad," Shenfeld said.
"Even if new consensus surveys show that the outlook for 2011-12 is weaker than what was assumed at budget time, any resulting miss versus fiscal targets will still be a minor issue for global investors looking at huge U.S. deficits and refinancing difficulties for a growing list of eurozone countries."
Europe's economy and debt problems of several countries including Greece, Italy and Spain have been among global investors' main concerns over the last year and a half.
The briefing was sought by opposition members of the committee.
NDP finance critic Peggy Nash said the opposition wants to know what the government is doing in the face of the uncertainty on Canada's economy.
"The Wall Street Journal says that Canada is at risk of economic contraction. The June budget cut funding out of the economy. What are the government's plans for dealing with uncertainty, or worse, an economic downturn?" she said.
"How is the Government planning to keep investment coming into the Canadian economy when consumers are tapped out and businesses are paying down debt and holding cash?"
Opposition members on the committee had sought to also hear from other independent economists, but that plan was nixed by the government members.
Flaherty said last week that the economic turbulence experienced in several countries poses certain obvious risks for Canada — but said he was sticking with his plan to balance the government's books by 2014-15.
The minister said that U.S. and European difficulties have not prevented the Canadian economy from performing "relatively well."
Flaherty's comments followed several days of volatile financial markets around the world.
Following a credit rating downgrade by Standard and Poor's, the U.S. Federal Reserve said last week that it would look to keep its interest rates at their record lows for the next two years as its painted a bleak picture of the U.S. economy.
Investors have also been kept on edge by Europe's debt troubles, rising inflation in China and slower growth in other less-developed countries.
German Chancellor Angela Merkel and French President Nicolas Sarkozy called for greater economic discipline and unity among European countries Tuesday as new figures showed slowing French and German growth.
The Canadian central bank's key target growth rate has been at one per cent since last September and, earlier this year, economists had widely expected a series of quarter-point increases starting in the summer to offset inflationary pressures.
However, a slowing of the economy in recent months the move by the Fed has changed that view and rate hikes are not expected until next year.
After a strong start to 2011, economists expect results from the second quarter to show much slower economic growth. And while many had expected a rebound in the second half of the year, economists are now reassessing their expectations for the third and fourth quarters due to the slower than expected recovery in the U.S. and the upheaval in Europe.
In its July monetary policy report, before the recent turmoil in the U.S. and Europe, the Bank of Canada expected the Canadian economy to grow at a pace of 1.5 per cent in the second quarter and accelerate to 2.8 per cent in the third quarter.
On Tuesday, Statistics Canada reported manufacturing sales in Canada fell for a third consecutive month in June, hitting their lowest level since last November.