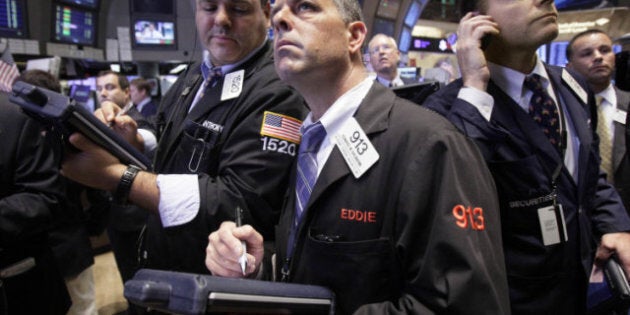 TORONTO - The Toronto stock market closed nearly 400 points lower Thursday amid a global selloff sparked by weak economic reports that spooked already-jittery investors with the spectre of another recession.
The S&P/TSX composite index was down 392.9 points, or 3.1 per cent at 12,186.71. It was down as much as 457 points just before the close.
The TSX Venture Exchange was off 49.56 points at 1,770.63.
The Dow Jones industrial average slid 419.63 points, or 3.7 per cent, to 10,990.58, after earlier losing more than 500 points.
The S&P 500 index fell 53.24 points, or 4.5 per cent, to 1,140.65 while the Nasdaq composite index lost 131.05 points, or 3.3 per cent, to 2,380.43.
"It appears that still shell shocked from last week, traders were quick to pull the rip cord and get out of the market first then ask questions later," Colin Cieszynski, an analyst at CMC Markets Canada, wrote in a report.
"The culprit for today's reversal of sentiment is a return to awareness that stagflation (low economic growth and high inflation) remains a very real prospect, that recession risks are increasing and that the European financial sector may continue to struggle for some time," Cieszynski wrote.
The U.S. and European economies are "dangerously close to recession," Morgan Stanley economists wrote in a report. "It won't take much in the form of additional shocks to tip the balance."
The bank cut its global GDP growth forecasts to 3.9 per cent in 2011 and 3.8 per cent in 2012, from 4.2 per cent and 4.5 per cent, respectively.
In the United States, stocks were already lower after data showed home sales have plunged, unemployment is up and consumer spending could slow due to higher inflation. The selloff was exacerbated by Federal Reserve data showing manufacturing in the Philadelphia region fell to a shocking reading of negative 30.7 in August. A reading below zero means the sector is contracting.
Meanwhile, downbeat Japanese exports and British retail sales figures battered markets in Asia and Europe.
The loonie slid 0.90 of a cent to 101.17 cents US.
The fears sent gold up $28.20 to its latest record close at US1,822 as traders sought to store their money in the perceived safe haven. It had earlier traded as high as US$1,830 per ounce.
But even the gold-heavy materials sector couldn't avoid the selloff, losing 2.45 per cent on the TSX. Shares in Goldcorp Inc. (TSX:G) lost 84 cents to C$49.46.
Copper fell seven cents to US$3.97 a pound. Overall, the mining sector was the hardest hit on the TSX, down 5.5 per cent, with shares in miner Teck Resources Ltd. (TSX:TCK.B) off 6.7 per cent, or $2.84, at C$39.49.
Oil prices stepped back $5.20 to US$82.38 a barrel on the reports pointing to possible weaker consumer spending in the United States.
The energy sector tanked on the TSX, down 5.5 per cent, with shares in Suncor Energy Inc. (TSX:SU) off 6.5 per cent or $2.06 at C$29.67.
The lows of the year on the Toronto market were hit last Monday when a plunge of almost 500 points pushed the TSX down almost 20 per cent from its most recent highs from early March, presenting investors with a host of stocks beaten down in price.
That's when the CBOE's widely watched volatility index, which measures investor fear, surged to 48. On Thursday, it was close to that level at 43.
A slew of troubling economic news trickled in from south of the border Thursday.
U.S. consumer prices rose 0.5 per cent in July compared with June — more than double the 0.2 per cent increase economists had expected. The increase was the biggest since March.
Unemployment applications in the U.S. were back above 400,000, but the four-week average dropped for a seventh straight week. High unemployment is a major reason why growth in the U.S. has stalled and jobs data is carefully monitored for any changes.
Meanwhile, the U.S. National Association of Realtors said the number of people who bought previously occupied homes plunged 3.5 per cent in July.
The U.S. Conference Board's index of leading economic indicators rose 0.5 per cent in July after a 0.3 per cent increase in June, suggesting that the U.S. economy won't pick up enough this year for the jobless rate to drop much, but it does indicate that the world's biggest economy likely won't fall back into recession as some economists fear.
Canadian economic news Thursday was more upbeat, but overshadowed by the global fears.
Statistics Canada said wholesale sales rose 0.2 per cent in June to $47.8 billion, following a two per cent advance in May.
The agency also released a report that said the composite leading index rose 0.2 per cent in July compared with June. Household demand was firm, reflecting steady gains in employment, but that was partly offset by declines in the stock market, with the TSX seeing its largest monthly decline since 2009.
Meanwhile, Mosaid Technologies Inc. (TSX:MSD) was one of the few gainers on the TSX. Its shares rose 24 per cent, or $7.57, to $39.22 after it recommended shareholders take no action on a $480-million unsolicited takeover bid by Wi-LAN Inc. (TSX:WIN).
Mosaid said it wants to review the offer before responding to the bid that would combine Canada's two leading patent companies. Wi-LAN shares were down 5.9 per cent, or 42 cents, at $6.67.