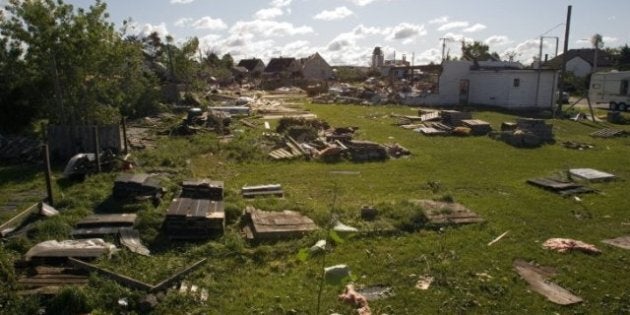 GODERICH, Ont. - Residents of a town dubbed the prettiest in Canada wandered in shock Monday through streets buried in rubble and mangled trees, some dissolving into tears as they took in the destruction caused by the most powerful tornado to hit Ontario in years.
STORY CONTINUES UNDER SLIDESHOW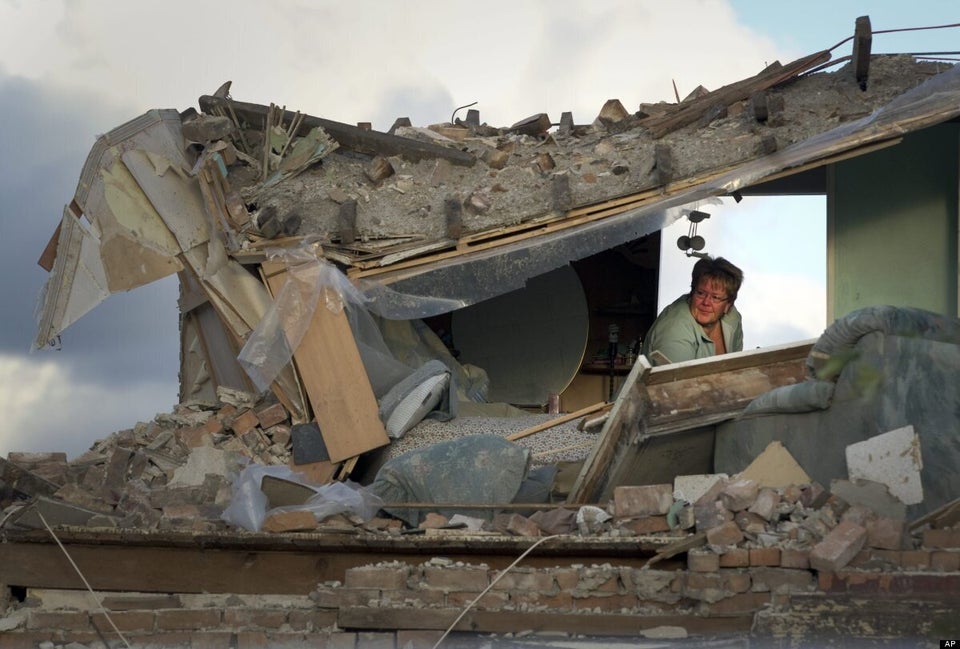 The people of the picturesque Lake Huron community of Goderich seemed paralyzed, not sure what to do next.
But as the day went on, they started rolling up their sleeves to help restore some order to the battered town and comfort those still reeling from the storm.
"We will repair this town," vowed Mayor Delbert Shewfelt.
At least 37 people were injured and a 61-year-old worker at a salt mine was killed as winds of 280 km/h raged through the beach and port town of 8,000 on Sunday afternoon, ripping the roofs off historic buildings, reducing trees to matchsticks and tossing cars around like toys.
By Monday morning, the extent of the destruction began to sink in.
Debbie Hakkers, 49, crawled through the wreckage of her bedroom, sifting through the debris to fish out her jewelry box and laptop.
She rushed home from an out-of-town shopping trip on Sunday night to find her home torn apart, the roof ripped off and chunks of the walls blown clear across the street.
Her husband Gary, who was inside when the tornado struck at about 4 p.m., escaped with only a few scrapes, but the home they shared is in ruins.
"It's a total disaster," Debbie Hakkers said, wiping away tears as she surveyed the rubble.
"It never really hit me until this morning when I got up and came outside and I just cried."
After examining the damage Monday, investigators determined the storm was an F3-level tornado, and the province has allocated a $5-million disaster relief fund to help with the cleanup.
"This is the worst damage I've ever seen," said Environment Canada's Randy Mawson, who has been investigating storms for 36 years.
Winds carved a path about 500 metres wide through the town's centre, he added.
"To the south of that and to the north of that, if you go far enough, you'll see no damage occurring, but along that 500-metre path through the downtown core, quite a bit of damage," he said.
The storm, which came nearly two years to the day after a tornado claimed the life of an 11-year-old boy in Durham, Ont., south of Owen Sound, was the most powerful Environment Canada has seen in Ontario since 1996.
"Roofs are gone, literally gone and people are just devastated, they don't even know where to go or what to do," said resident Heather Johnston, who biked around felled trees and crumbled brick to get a look at the remains of her neighbourhood.
Johnston hid in the basement with her three grand-children when they felt the storm hit. The fences around her home were ripped away, she said, but otherwise, there was little damage.
Her friends and neighbours weren't so lucky. One friend saw wood beams hurtle through the windows and smash into the walls of her house as it rattled in the wind.
"It was a very, very scary ordeal," Johnston said.
Police identified the victim as Norman Laberge, 61, of Lucknow, Ont., who was working in a salt mine in the town when the storm hit.
The mayor called the wreckage catastrophic and declared a state of emergency. By early morning, Ontario Premier Dalton McGuinty had already activated the province's emergency plan for helping communities struck by disasters.
"I want to reassure the people of Goderich, you are not on your own, you've got 13 million people in your corner, think of yourselves as part of our large and extended Ontario family," McGuinty said Monday afternoon after surveying the damage. "If some tragedy befalls any one of us, we're all affected by it, we're all determined to help you fully recover."
McGuinty said the priority now is making sure everybody is safe and restoring power so people can return to their homes and businesses.
"We've come to the table with $5 million at this point in time, we'll see where that gets us and we'll take it from there," he said. "I think we're going to have to bring a sense of patience to this."
A steady stream of residents have signed up to pitch in and many brought food and supplies to the town's designated relief centre Monday.
As the day went on, residents began to clear debris from their homes, hauling splintered furniture to the curb. Chainsaws buzzed as some residents sliced off dangling tree limbs, while others nailed shingles to patchy rooftops.
"Words are not enough (to describe the destruction)," said Shewfelt. "It's unbelievable. That's all I can say."
The mayor said the town's council will convene Tuesday to discuss the provincial funds.
Dave Phillips, senior climatologist at Environment Canada, said residents were warned of the looming tornado at 3:48 p.m. Sunday, 12 minutes before it hit.
He said such alerts are routinely issued between 10 and 15 minutes in advance.
Too much advance warning could lull people into a false sense of security and result in more fatalities and property damage, he said.
"If you have too much time, people think, 'Oh well, I still have time to golf or to get out of this swimming hole or drive home or something like that.'"
Tornado warnings are communicated through a variety of channels, including radio and mobile applications. Warnings urge the public to immediately seek shelter, rather than securing their property, he said.
People are encouraged to take cover in low-lying areas and make sure their heads and necks are protected, Phillips said.
"It's not the wind that will get you, it's the flying debris that will hurt you," Phillips said.
Betty Hexamer didn't hear the warning. The powerful winds that suddenly whipped hail at her home Sunday afternoon took her completely by surprise.
"I don't think anyone heard about it at all," she said. "You have to be in front of your TV or listening to the radio, but if you're not, then nothing."
Her husband Don said no amount of warning could prepare residents for the violent storm.
"I'm not so sure how much warning would be enough. What do you do? If you have a one-hour or two-hour warning, do you leave town? ... There's either not enough (warning) or there's too much."
Police tape encircled much of the town's main plaza Monday, cutting off access to shops with shattered windows. Uprooted trees lay across crushed cars parked along the barren streets. Only a few curious townspeople ventured out to snap photos of the destruction.
Goderich is a historically charming town known for its beautiful beachfront, wooden boardwalk and handsome architecture. According to folklore, it was Queen Victoria who dubbed it "the prettiest town in Canada," a motto the town does not attribute to her but has nonetheless adopted.