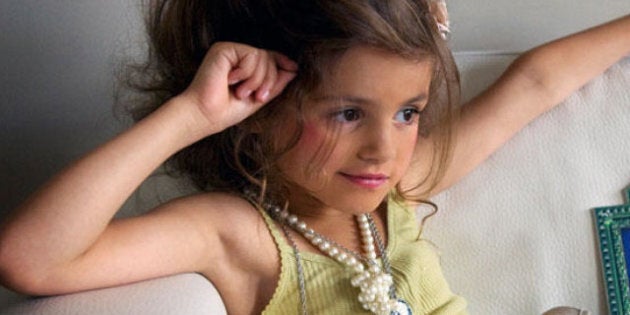 After a summer of controversial photo shoots featuring young girls in lingerie and padded push-up bras, parents may be breathing a sigh of relief as cooler weather comes our way.
Back-to-school usually means less scandalous clothing options and a quick survey of major retailers websites like Joe Fresh, GapKids, H&M and The Children's Place confirmed that jeans, hoodies and cardigans are the staples for this season.
"Those types of things set our girls up for horrible situations like eating disorders, low self esteem, depression issues," said Johnson. "All of that can come from putting our little girls in advance situations that they're not ready for."
While images of sexualized young girls abound and consumers want to blame the media, parents ultimately have the last word and should be setting firm boundaries around clothing decisions, Johnson says.
"As parents we have the experience to foresee where the decisions young are going to lead them as they get older," Johnson told Ksl.com.
And there has been a lot of navigating for parents to do this summer, which has been particularly rife with media and advertising images that show young girls in questionable clothing or modelling campaigns.
One of the latest controversies featured young girls in revealing undergarments posing for a French lingerie company that carries a line aimed at girls as young as four.
The kick-off to this spate of incidents came in March, when American retailer Abercrombie & Fitch was slammed for offering padded and push-up bras for 7-year-olds in their summer bathing suit collection. Similarly, American Eagle caught flack for their push-up bras adding two cups for 15-year-olds.
Some parents are taking action, but not necessarily for the right reasons. The parents of a 15-year-old model are suing retailer Urban Outfitters, two other stores and a photographer for $28 million after the store produced T-shirts of their daughter posed without a bra with her legs open on a motorcycle. The parents, however, had approved the photo shoot and were suing over rights.