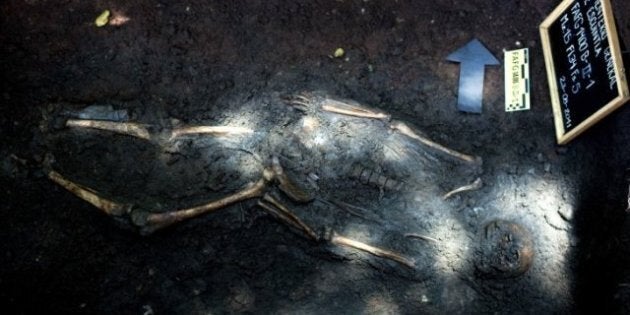 CALGARY - A man accused of war crimes in Guatemala used a sledgehammer to slaughter unarmed villagers during that country's civil war and threw their bodies down a well, a Calgary extradition hearing heard Monday.
Jorge Vinicio Orantes Sosa was arrested earlier this year in Lethbridge, Alta., and is accused of lying to American immigration authorities about whether he had committed a crime or been a member of a military organization when he applied for U.S. citizenship.
The 53-year-old, who is both a U.S. and Canadian citizen, is wanted by Guatemalan authorities for his alleged involvement in attacks on the village of Dos Erres in which more than 200 men, women and children were massacred in 1982.
Federal Justice Department lawyer Cynthia Dickins laid out in detail the legal case on behalf of the U.S. Department of Justice at an extradition hearing Monday.
Dickins said there is evidence that Sosa was a sub-lieutenant at the Kaibil School, which trained special commando units in Guatemala in the late 1970's and early 1980's.
The hearing was told he was one of the commanders of a 60-man unit that surrounded Dos Erres in December 1982. The group believed the village was under rebel control. They thought its inhabitants were responsible for an ambush on a military patrol and the theft of 20 rifles.
"They went from house to house separating the men from the women and children," said Dickins, quoting the statements of one of three confidential witnesses who were members of the commando unit.
The villagers were brought to a well, blindfolded and interrogated, the hearing was told. No weapons were found.
"The decision was made to kill all the villagers. I witnessed the man known as Sosa hit villagers on the head with a sledgehammer, including one as young as 13," said Dickins recounting the witness statement. "One man was alive in the well. (Sosa) fired his rifle into the well and then threw a grenade down as well."
Infants and small children were killed first, Dickins said. Women and young girls were raped before being slain.
Dickins said Sosa told U.S. authorities that he had never committed a crime and the had never been a member of the military.
Dickins pointed out that the hearing is not a criminal trial and the allegations haven't been proven. The extradition hearing simply needs to determine whether there is enough evidence to warrant a trial.
"The hearing is not a trial nor should it become one," she said in her address to Justice Neil Wittmann. "The ultimate guilt or innocence of the person sought is not an issue."
Sosa has been in custody since his arrest. Some members of his family were in the courtroom for the proceedings.
The hearing is being watched closely by the Canadian Centre for International Justice and Lawyers Without Borders Canada. Both want Sosa tried under war crimes legislation here in Canada.
"This is someone alleged to have committed some of the most serious crimes of international concern," said Lawyers Without Borders Executive Director Pascal Paradis.
"Charging Mr. Sosa Orantes with U.S. immigration violations is not going to provide a sense of redress to survivors of the massacre, and extraditing him to the United States does not send a message that people who commit such atrocities will be held accountable," he said in a news release.