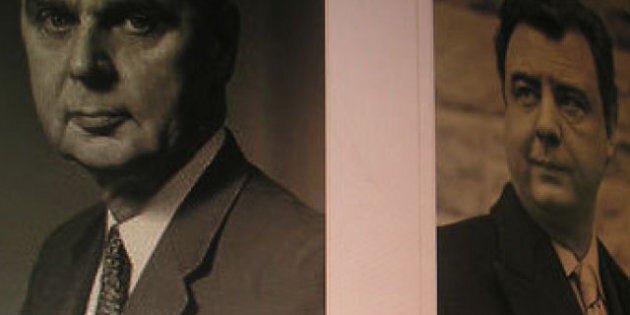 History records indicate that former prime minister John Diefenbaker did not father any children — although a Toronto man is now challenging that.
John George Dryden says he believes his mother, Mary Lou Dryden, had an affair with Diefenbaker in the late 1960s and he is the result.
Now he's looking for answers that could tie him to Diefenbaker, the longtime Saskatchewan MP and Canada's 13th prime minister.
"I would really like to know who my father is," said Dryden, who was born in 1968. "I mean ... if it turns out it's Diefenbaker, that's great. I'd be honoured to be his son."
Dryden has launched a $30-million lawsuit against his mother, his father, Gordon Dryden, and other family members in the Ontario Superior Court of Justice.
In his statement of claim, Dryden's mother is described as "a close personal friend and confidante of [former] prime minister John George Diefenbaker and was often seen by his side at political events and as his companion on social occasions."
The claim contains allegations that have not been proven in court.
Dryden, who goes by George, said he was in Ottawa with his mother in 1977 when he met Diefenbaker on Parliament Hill.
"It was a long but caring look," he said. "He looked me right in the eye and said, 'You're named for me.'"
Dryden said his father treated him poorly because he knew he wasn't his biological son, something he says was recently confirmed by a DNA test.
He doesn't have DNA proof Diefenbaker, who died on Aug. 16, 1979, at the age 83, was his real dad, but that's something he hopes to change.
Dryden hopes to get a sample of Diefenbaker's DNA from the Diefenbaker Canada Centre in Saskatoon to confirm his suspicions. A few hairs from a hairbrush or DNA from a toothbrush might provide the answers he seeks, Dryden said.
A website set up in support of his case displays photos of Diefenbaker and Dryden side by side. One commenter said there was a resemblance.
"I'm kind of jowly, too," Dryden said.
The Diefenbaker Canada Centre has said it's considering his request for a DNA sample but he hasn't heard anything to suggest they'll co-operate, Dryden said.