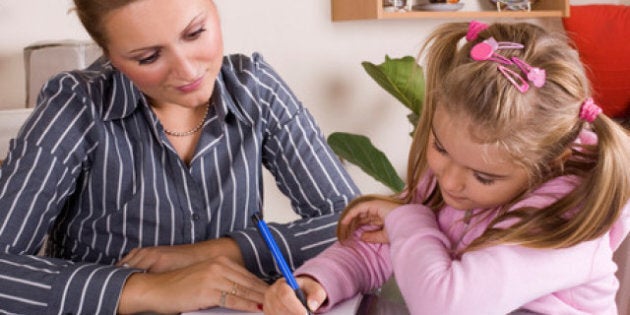 Mary Elizabeth Picher, a Child and Family Clinician and owner of Wholeplay in Toronto, says end-of-summer anxiety is completely natural. And while it may seem (and feel) overwhelming at times, the key to coping is to understand some of your child's concerns and to discuss them honestly within your family and with other parents.
Common Back-to-School Concerns
There are several worries for kids that arise around the start of a new school year, according to Picher:
Fear Of Fitting In: "This is the most common concern for kids. This can really affect a child's self esteem if they don't have a peer network they belong to. They can end up feeling isolated and there may be a sense of alienation which can lead them to withdraw and disengage from the school experience."
Bullying: "This is an extreme example of kids feeling like they don't belong. In these circumstances, kids are targeted for some quality about themselves that puts them at higher risk of feeling bad about themselves. This can lead to anxiety and even depression. When they're concerned and focused on this, it can be very challenging to focus on academics."
Challenging Academics: "Kids can feel a lot of pressure to get good grades and new material brings with it a great deal of stress. Children will often compare themselves with their peers who might have more success with academics. This can cause children to develop a negative self image on the one hand, and an over-competitiveness and feeling of being stressed out on the other."
Teacher Relationships: "Kids want to have positive feelings toward their teachers. A good teacher can make the school experience a positive one. If that relationship isn't positive, it can make a child withdraw."
Technology: "A newer concern is around technology. Kids are using technology in ways we never did to stay connected to their friends, and it can be a cause of stress if kids feel left out of the technological loop."
How You Can Help Your Children Cope
"Parents can make sure their kids know they're always available to talk should they need them. Kids should feel safe to come to their parents with their concerns," Picher says.
"Parents need to keep in mind that there can be a pitfall of trying to get over-involved in kids' difficulties. An over-involved parent can exacerbate a problem for a child, and sometimes just being heard and feeling supported is all the help a child needs when dealing with a challenge. It can be tricky to know where the line is between being over- or under-engaged in times like these, but parents need to have confidence in their child's ability to solve many of their own problems and to find their way."
How Parents Can Cope With Their Own Anxieties
"Parents can talk with other adults to share and relieve some of their anxieties. They should be careful not to share their kid's anxieties because you don't want a child to feel like their trust has been betrayed. That trust is very important to maintain," says Picher.
"Parents should try their best to not over-identify or take on their child's anxieties either. Try to remain calm and rational even if you're feeling stressed because your child is unhappy. A good rule of thumb about whether or not to get involved is to consider if there is an issue of safety. That can be physical or emotional. Another way is to look out for changes in a child's performance or character in school. Are they becoming withdrawn or fearful? If so, that may be a sign your support is needed."
WATCH: How Parents Can Cope With Back-To-School Stress