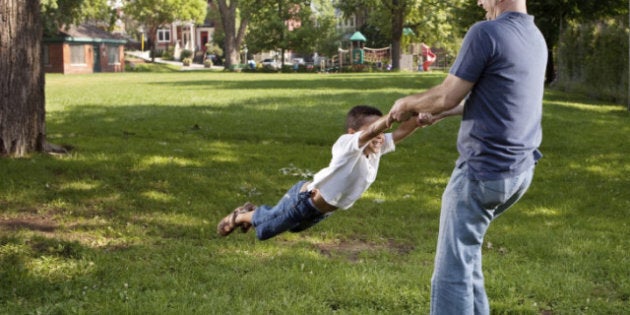 Being active in their children's lives is one goal most parents work hard at every day, and a new study suggests good news for dads who spend hours on homework, play outdoor games and read bedtime stories with their kids.
The study's lead author Erin Pougnet says:
"Compared with other children with absentee dads, kids whose fathers were active parents in early and middle childhood had fewer behaviour problems and higher intellectual abilities as they grew older -- even among socio-economically at-risk families."
The most recent national census data from 2007 revealed that 26 per cent of families with children were headed by a single parent according to the latest census from Statistics Canada. In fact of the 1.4 million single-parent families in the country, about 20 per cent of them were headed by men. The number of families headed by men has been growing twice as fast as the number of women according to the report.
Setting appropriate limits and structure to their kids' behaviour was one of the ways dads helped reduce behavioural and emotional problems,. Pougnet says. But researchers emphasized that children raised from single mothers were not necessarily at a disadvantage, and some kids no contact or distant dads do fare well intellectually and emotionally.
Fathers who are looking for guidance and support on parenting can seek out a number of resources online and in the company of other fathers. Some groups are tailored specifically around cultural background and shared experience.
Brandon Hay founded the Black Daddies Club to support black fathers, encourage active relationships between dads and their children, and help parents in the black community understand fatherhood.
"When I was looking for dads groups I wasn't seeing any and I see the need of having something culturally specific ... Not knowing how to be a father and feeling the need to connect with other men who look like me, who have been through the same challenges," he told the Globe and Mail.
Active parenting often starts with listening, according to writer Dan Bortolotti, offers 10 tips to be "a good parent" on Todaysparent.com. He advises parents to also read with their kids and find out important things from their day to build an active bond.
WATCH: Understanding The "Daddy Brain"