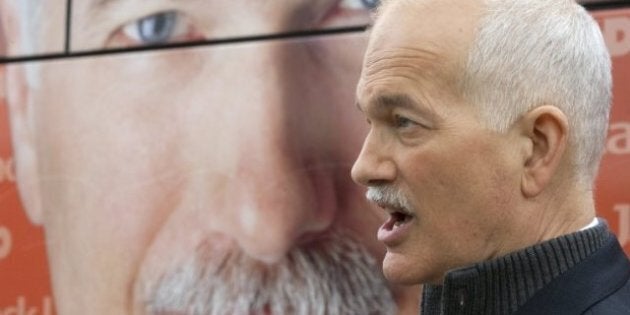 NDP president Brian Topp says the party's late leader, Jack Layton, did not want a leadership convention in January, but for the race to last at least seven months.
In an interview Tuesday morning on CBC News Network, Topp sought to clarify an interpretation of Layton's last letter to Canadians in which he said he wanted the race to replace him to conclude as early as possible in the new year. That didn't necessarily mean January, Topp said.
The party president, who is considering entering the race as a candidate to replace Layton, said he and Layton talked about the timing of a leadership race before he died.
"Jack didn't want a convention in January," said Topp. He said Layton wanted the competition to last roughly as long as the last leadership race in 2003 – seven months.
"He was pretty clear in his mind we should do that again, we should have a campaign about that long, and he says so in his letter, so that a Jack Layton could run."
Topp said when Layton ran for the leadership in 2003 he was the "surprise" candidate and he spent a lot of time reaching out to party members on the ground. He said Layton wanted the race to succeed him to allow for enough time for candidates to do the same thing, but not so much time that it would lead to internal discord and disengagement from the public.
Topp backed Layton's call for a seven-month period, saying it would strike the right balance.
"I think there is a reasonable balance that we can strike and I think Jack proposed it in his letter which is, let's have a campaign about as long as the last one," said Topp.
The NDP's federal council will meet Friday to decide the rules and timing of the leadership race. Topp said he, along with a number of NDP MPs who are considering running, are waiting to hear the rules before announcing their intentions. If the leadership race were to begin this month, a seven-month period would put the vote for Layton's replacement in March.
Topp said he will not be participating in Friday's meeting and has withdrawn himself from all discussions around the leadership contest because of his interest in being a candidate. He has also indicated that he would step down as the party's president should he enter the race.
Quebec MP Thomas Mulcair, one of the NDP's deputy leaders and a potential candidate, has been calling for a race of at least seven to eight months and has threatened not to enter the race if it's shorter. Other MPs have also expressed concern about a short timeframe. Every NDP member gets one vote to elect the new leader which means candidates will be relying on selling new memberships in the party to boost their chances of winning.
NDP membership is lower in Quebec than in other provinces. A longer race would work in Mulcair's favour, or any other potential candidates from that province. It would also be advantageous for candidates including Topp, who does not have a high national profile.
He said during Tuesday's interview that regardless of who enters the race, it will be a "fascinating" contest and one where "the stakes have never been higher" for the NDP.
"We're one tantalizing step away from being the government," he said.
The leadership race will be top-of-mind for NDP MPs when they meet next week in Quebec City for three days of caucus meetings. Under the interim leadership of Nycole Turmel, the MPs will be preparing strategy for the fall session of Parliament but the retreat will also provide an opportunity for interested leadership candidates to gauge support from their colleagues.
Chow will not run
A number of MPs who have said they are thinking about running. Not in that group, however, is Layton's widow, Olivia Chow. The Toronto MP told CBC chief correspondent Peter Mansbridge in an interview aired Monday on The National that she doesn't intend to be a candidate, nor will she endorse one.
"That wouldn't be fair," Chow said.
The party's federal council will be deciding on both the timing and location of a leadership convention and its members will have to take logistics into account. The NDP needs a venue to host the event and finding one big enough, on short notice, in a preferable location, is proving a challenge. According to NDP sources, Ottawa and Montreal are the preferred locations and there are no available venues in January in either of those cities.
While planning is underway for the leadership convention, the NDP found itself over the weekend defending its last policy convention that was held in June. The Conservative Party of Canada is asking Elections Canada to investigate whether the NDP violated the Elections Act by accepting union sponsorship at the Vancouver meeting.
In a letter sent to Chief Electoral Officer Marc Mayrand last week, Conservative Party lawyer Arthur Hamilton says the New Democrats "prominently displayed" signs acknowledging sponsorships from several unions and a printing company. The Tories suggest the sponsorship violated Section 404 of the Elections Act, which prohibits unions from making contributions to Canadian political parties.
The NDP said advertisements at fair-market-value are allowed by the law, and that Elections Canada "is fully aware of this practice."