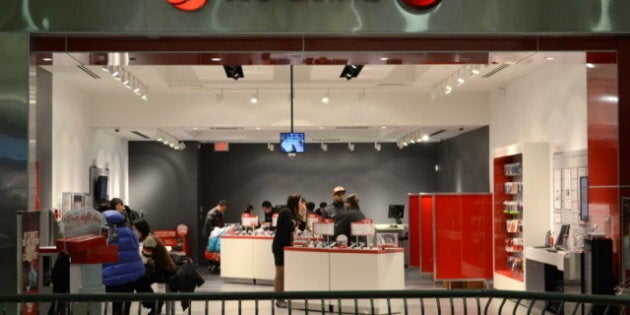 Rogers Communications Inc. has filed papers with the federal government to start a bank.
The telecom giant intends to apply to the Minister of Finance to incorporate under Canada's Bank Act.
The bank will carry on business in Canada under the name of Rogers Bank in English and Banque Rogers in French. Its head office will be located in Toronto.
The bank would likely primarily deal in credit and mobile payment services, as opposed to bricks and mortar bank branches that take traditional savings and loan accounts.
"We have no plans to become a full-service deposit-taking financial institution," Rogers spokesperson Carly Suppa said.
"The license, if granted, would give us the flexibility to pursue a niche credit card opportunity to our customers should this make sense at a future date."
A number of large Canadian retailers including Sears, Loblaws, HBC and Canadian Tire have similar separate finance divisions which — while hugely profitable — are essentially extensions of the core business.
Canada currently has almost two dozen domestic banks (known as Schedule I banks under the Bank Act) and an even larger number of divisions of foreign-owned banks licensed to operate in Canada.
"Rogers has learned the lesson of Apple's App store," said Amit Kaminer, a telecom analyst at the Seaboard Group. "You need to position yourself in the supply chain to be involved at every point, because right now they're not making a cent on a lot of transactions that are happening [between companies and customers] on Rogers' network."
"This is a growing trend in the telecom business," Kaminer said. "Mobile payments is something everybody's looking at."
Rogers shares were down by about three per cent to $37.02 in a down day overall on the TSX.
Though it seems like a departure for a telecom company to get into the banking space, in some ways Rogers has already been acting like a bank for some time, Kaminer said.
He notes that the company's practice of selling handsets at a discount to customers and then having them pay back the savings over time in the form of a long-term contract is very bank-like.
"With phone subsidies, you borrow from Rogers and pay them back over time," he said. "That's sort of like a small mortgage."
The move was telegraphed in the Canada Gazette, the official record of the federal government. Opposition to the proposal must be submitted in writing to the Office of the Superintendent of Financial Institutions by Oct. 24, 2011.