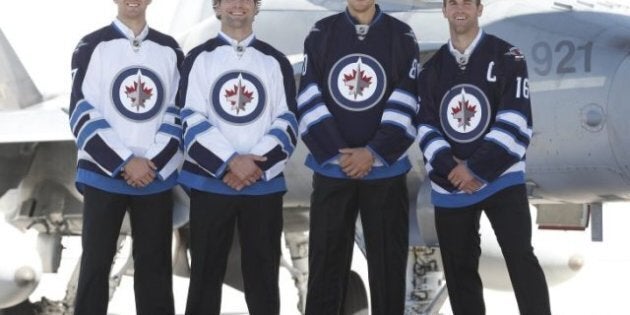 The re-incarnated NHL's Winnipeg Jets unveiled their new uniforms on Tuesday.
The Jets, who returned to Winnipeg with the sale of the Atlanta Thrashers to Manitoba's True North Sports and Entertainment in May, held a news conference to unveil the team's new uniforms at Royal Canadian Air Force base 17 Wing.
The jerseys consist mostly of two shades of blue: Polar Night Blue, found on many of todays RCAF aircraft, and Aviator Blue which is similar to historical colours used by the RCAF.
Jets General Manager Kevin Cheveldayoff said the jerseys honour the rich history of hockey in Winnipeg and echo the traditions of the Royal Canadian Air Force which inspired the primary crest design.
"We wanted to create a look that worked well with Reebok's modern and innovative "Edge System" uniforms," said Cheveldayoff. "However, it was also vitally important to us to honour the rich history of hockey in our city, and fit the era of the Royal Canadian Air Force which inspired the primary crest design. The result is clean, simple and traditional."
"Our men and women in uniform are delighted by the gracious manner in which the Winnipeg Jets Hockey Club has sought to pay tribute to our time-honoured relationship with this city," said Colonel Blaise Frawley, Commander of 17 Wing. "Today's announcement at our home in Winnipeg certainly lends a boost to our morale."
The jerseys will also include a commemorative, opening night patch when they face the Montreal Canadiens on Oct. 9th, as well as commemorative inaugural season patch which will be featured during every other game in 2011-2012, Winnipeg's first since re-joining the National Hockey League.
The team logo, revealed in July, shows a sleek fighter jet pointing north over a red Maple Leaf, all inside a navy blue and grey circle known in military terms as a roundel.
The logo is strinkingly similar to — and based on — that of the Royal Canadian Air Force.
"Our desire was to authenticate the name and make it as meaningful as we possibly could," said Jets co-owner Mark Chipman.
"In my view, the best way to do that was to draw a connection to the rich history that our city has enjoyed with the air force, particularly with 17 Wing," he added, referring to the military base near Winnipeg's airport.
The team also unveiled secondary logos. One features military-style wings over two hockey sticks and a maple leaf, with the team name around it. The other has the team name in large stylized letters with a red maple leaf.
The team started selling some T-shirts, ball caps and other merchandise immediately. The jersey colours are expected to be the same as those contained in the logo — blue, white and grey with a red maple leaf.