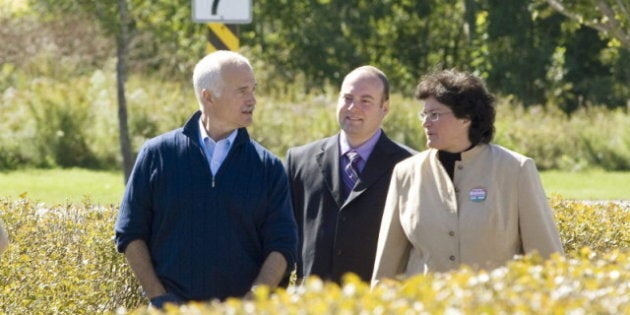 OTTAWA — He was once talked about as a future NDP leader, now Quebecer Pierre Ducasse, a man with a much lower profile than many other would-be contestants, is pondering whether to throw his hat into a possibly crowded ring.
Ducasse, 39, ran for the NDP leadership in 2003. He took a six-month leave from work, spent $36,000 on his campaign, slept at friends' homes while touring the country talking about establishing an effective centre-left alternative in Ottawa.
"There cannot possibly be a party or a strong social democratic movement in Canada without the participation of the Quebec left. If we want to truly represent an alternative to the Liberal government, we need to build across the country and particularly with francophones," Ducasse, an NDP organizer in Quebec since the 1990s, told delegates.
That Quebec reach-out gave the NDP 59 of the provinces 75 seats on May 2, 2011, and it helped the party secure its position as Her Majesty's Loyal Opposition.
Although Ducasse's "to-have-the-results-that-you-have-never-had, you-must-do-what-you-have-never-done" speech received rave reviews, the then 30-year-old garnered less than 4 per cent of the vote.
Reached in Ottawa this week where he works for the Canadian Union of Public Employees, Ducasse said it is "unlikely" he'll jump into the race.
Timing has a funny way of working, he suggested. Although he ran four times for the NDP, in 1997, 2004, 2006 and 2008, Ducasse sat the last election out, deciding to focus on raising his young son, his new job and a side project writing a book on economic democracy. Knowing his riding of Hull — Aylmer was in good hands with a strong candidate helped, he said. His good friend Nycole Turmel, now the interim NDP leader, won handily by more than 50 per cent.
"I would not have left the riding orphaned, but when Nycole and I started having talks, I learned she might be interested in running then I decided not to run because she is fantastic person and candidate and I just had a baby, so that was the context," he told Huff Post.
Ducasse, like some others in the party who are being encouraged to run — his friend and fellow Quebecer Karl Belanger, who serves as Jack Layton's jovial press secretary, or Layton's well loved chief-of-staff Anne McGrath — face an uphill challenge if they decide to become a candidate.
None has experience holding elected office. Each would have to take an unpaid leave for some six-months while touring the country; for Belanger and McGrath, that could mean jeopardizing their current jobs. They also don't have the staff support that members of Parliament who decide to run might enjoy.
"Not being a sitting MP is a big obstacle, it has been done in the past, right? But it's a humongous obstacle," Ducasse said. "People have a lot of sympathy for me but do I have that network in place and that strength? Probably not. But again, the main reason is (a) family reason. I do want to cherish these years."
Despite supporters reaching out to him, Ducasse said his friends tell him he still has a lot of time if he decides not to run for this leadership.
"My preoccupation and my hope was that of many other people … to see Jack as healthy as he could and I wanted him to run in the next federal election and beat (Prime Minister Stephen) Harper. So to be frank, I haven't been thinking of internal positioning," he said.
"Politics is an option, I'd like to come back to but sometimes events decide things for you," Ducasse added. "Sometimes life makes decisions for you."
The NDP's federal council will decide the rules governing its leadership race Friday.
Many would-be candidates told Huffington Post Canada Thursday they would wait for the rules to be finalized before making their decision.
Gatineau MP Françoise Boivin said she also wants to see who will run for certain before she jumps in.
"The first question, I will ask myself is ... which person (will) be best able to lead the party in opposition and propel us to become the government," she said. "I think i will be able to make a decision quickly, she added.
"When I look around, I know them (the candidates) pretty well, so I already have a good idea," she said.
NDP president Brian Topp has already declared his intention. But other candidates testing the waters are MPs: Boivin, Thomas Mulcair, Robert Chisholm, Libby Davies, Nathan Cullen, Peter Julian, Megan Leslie, Paul Dewar, Peggy Nash and possibly Pat Martin.