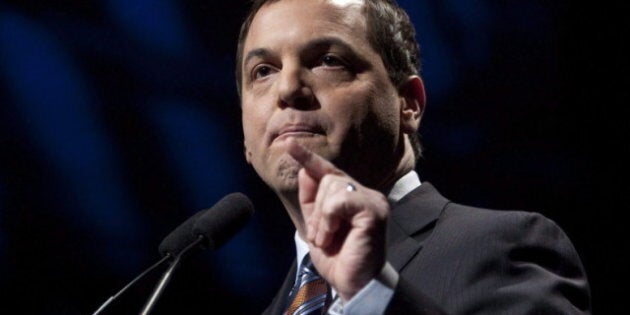 The Ontario Liberals and Progressive Conservatives are skirmishing over a Grit proposal to provide a minor tax credit to companies that hire new Canadians, but pundits see the dark arts of politics at play in the escalating war of words between the two parties.
Veteran Queen's Parks observers see in the heated rhetoric a cynical scramble by both sides to grab hold of a wedge issue — the kind that can divide the electorate but shore up support among their bases.
For PC Leader Tim Hudak, the need to lock down his support was drawn in sharp relief this morning by two new polls that suggest the Liberals have erased the wide lead his party enjoyed in the summer.
These are early days, and with only 500 people polled, the margin of error sits at 5 per cent. As such, numbers matter less than trends. Those trends show that Conservative support has softened since the spring and summer, though the party continues to fight strongly for first place, while the Liberals and NDP have both gained ground.
It's unclear what impact Hudak's decision to go big on the immigrant tax credit has had (or will have) on the campaign. The issue only grabbed headlines in recent days, but both parties appeared confident they could get some traction with it. Hudak seized on the credit as a sop to 'foreigners' before he softened his tone Monday; McGuinty demanded an apology, raising the spectre of Conservative xenophobia.
"Tory Leader Tim Hudak has either tapped into a deep vein of voter resentment against recent immigrants, or taken a detour — possibly a U-turn — that has thrown his campaign off course after two years of meticulous preparations," writes the Toronto Star's Martin Regg Cohn.
"In their effort to fire off a shot at their opponent, the two parties have started a debate that serves only to divide and not unite us," says NDP supporter Heather Fraser in HuffPost Canada's Ontario election debate blog. "It serves to deepen cynicism rather than inspire hope and positive solutions."
Ontario PC Leader Tim Hudak's attacks have "been appealing to Ontarians' worst instincts," writes Adam Radwanski of The Globe and Mail. The strategy is not aimed just at the Tories' "traditional white and rural base," Radwanski notes, but also at immigrants who have been in the country for longer than five years who may believe newer arrivals shouldn't receive any special treatment.
But what Mr. Hudak clearly hopes, in campaign mode, is to draw a line between new immigrants and those who have been in the country longer. To put it crudely, he's counting on members of the latter group to want to close the door behind them. More generously, he's appealing to those who believe they (or their parents) had nothing handed to them when they came to the country, and neither should anyone else.
But Lorne Gunter of the National Post says it's McGuinty, not Hudak, who is practising "the politics of division," by singling out a small group of Ontarians for special treatment. Still, Gunter agrees that Hudak opened himself up to allegations of racism by falsely labeling those eligible for the program as "foreigners," while missing an opportunity to capitalize on what he sees as a "Liberal policy blunder."
Peter Worthington, in a blog for HuffPost Canada, said the Liberal tax credit "reeks of desperation politics" and could turn out to be McGuinty's John Tory moment, referring to how the former P.C. leader lost the 2007 election over a pledge to extend public funding to religious schools. Worthington writes:
"[McGuinty's] plan seems a grotesque distortion of affirmative action. What it seems to mean is that if a company gets a $10,000 tax rebate for hiring a rookie citizen, other established citizens who are unemployed don't get hired. That alone seems a mockery of McGuinty's rather silly sentence that 'a Canadian is a Canadian is a Canadian.'
The plan in question would give a $10,000 tax credit to an employer who hires a new Canadian in the country for less than five years. The hire must have been trained abroad and been unable to find a job in their chosen field in Ontario. The Liberal platform describes the plan as a way to give "highly skilled newcomers the Canadian work experience they need."
Immigrants must have lived in Canada for a minimum of three years before to applying for citizenship, and typically applications take an average of 19 months to process. That leaves a window of five months in which a worker might be eligible under the plan. The Liberals say they believe up to 1,200 citizens might qualify for the $12 million program.
Those roughly 1,200 eligible citizens represent a small share of those seeking jobs in Ontario, and the projected $12 million cost is a fraction of the approximately $1 billion Ontario currently spends each year on training and miniscule compared to Ontario's total budget of $134 billion.
Statistics Canada put the total number of unemployed in Ontario at 547,900 in August, with the unemployment rate holding steady at 7.5 per cent.
McGuinty demanded Hudak apologize for referring to the plan as an "affirmative action program to hire foreign workers," pointing to the fact the program is aimed at Canadian citizens, not foreigners.
In 2007, John Tory's plan to fund faith-based schools (Islamic schools in particular) became a flashpoint of the campaign, which ended disastrously for the Tories.
Again, it appears the issue of how Ontario treats its newest citizens may define the 2011 campaign. Which party, if any, will benefit from the war of words remains to be seen.