AP
The Huffington Post Canada is pleased to announce a number of enhancements for our mobile readers, including an upgraded iPhone app and links that work on BlackBerry.
iPhone App
The Canadian edition of HuffPost has been added to our upgraded app. To access it:
Choose "Sections" on the bottom menu or tap the globe icon in top right corner and choose "Canada" from the International Edition menu. See screen capture below.
CLICK HERE for the app on iTunes.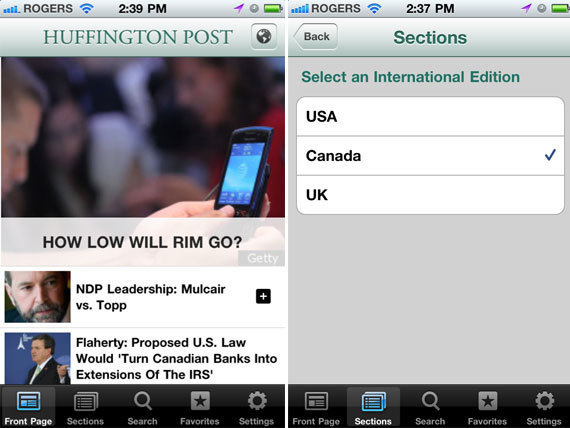 BlackBerry
Links to Canadian content now open on the BlackBerry browser.
Stay tuned for more mobile enhancements.
Facebook
Participate in the dynamic conversation on our Facebook page.
Twitter
Join our growing Twitter following at @HuffPostCanada.
HuffPost Canada staff on Twitter:
@yumke Kenny Yum, Managing Editor
@LisaWhy Lisa Yeung, Managing Editor, Living
@brodiefenlon Brodie Fenlon, Senior News Editor
@boyreporter Ron Nurwisah, News Editor
@Groane Christian Cotroneo, News Editor
@rachelmendleson Rachel Mendleson, Business Reporter
@althiaraj Althia Raj, Ottawa Bureau Chief
@michaelbolen Michael Bolen, Politics Editor
@danieltencer Daniel Tencer, Business Editor
@sarahkelsey Sarah Kelsey, Living Editor
@laurenstrapa Lauren Strapagiel, Weekend News Editor
@jackiedelange Jacqueline Delange, Associate Blog Editor