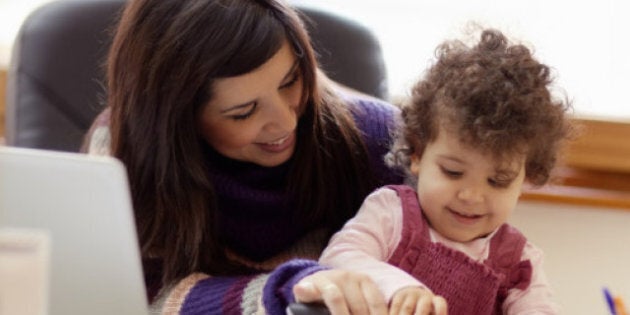 "I don't know how she does it." It's a line every stressed-out, guilt-ridden working mom has caught herself saying when she encounters a perfectly coiffed supermom with a kick-ass job and seemingly perfect kids to boot. But can any woman really have it all, or is that just an impossible ideal that's bound to disappoint?
I Don't Know How She Does It opened Friday, a film that depicts Sarah Jessica Parker as a harried businesswoman struggling to balance work and family and coming up short. The reviews have not all been kind, but the theme certainly resonates with the thousands, nay, millions of North American women who are confronted with the challenges of juggling their jobs and their kids, and often feeling like they've failed at both.
Shawna Cohen, editor-in-chief of the smart, snappy and sometimes snarky blog Mommyish.com, knows those challenges well. Mommyish bills itself as "Parenting Imperfect," and focuses on the juggling act required of this generation's "modern mom." Along with her roster of bloggers, Cohen (a working mom herself) frequently explores the guilts and frustrations that are keeping working moms up at night.
"So many women struggling with the balance of work and family," she says, "And study after study really proves that moms are overworked and overwhelmed and unhappy."
"My mother always said to me, 'You can have it all, just not at once,' and I never really understood that until I had children," says Cohen. "We think, 'One day I want to have children and a fabulous job and I want to travel,' and you can't really have these things at the same time."
Cohen isn't saying that you can't procreate and hold down a job, but if you want to be a happy mom instead of a sad one, she says accept that there's no such thing as a supermom, lose the guilt and realize that's something's gotta give. Here's Shawna Cohen's tips for making the work/family juggle a little bit easier:
Set Realistic Expectations For Yourself
"So many working mothers feel they have to do everything -- Be there for their kids, drop them off at school, take them to extracurricular activities, work and get promoted and cook a gourmet meal every night."
"Women have to allow themselves to take shortcuts, and that might be as simple as not cooking fresh meals every day. Some women don't want to spend their entire Sunday cooking and freezing food for the week, so order a pizza once in a while."
"I know personally when I need a break or to get even 20 minutes of work done on the weekend, I say, 'I don't want my kids to have more than 30 minutes of screen time.' But then I take a step back and say, 'Will this really affect their long-term development if they watch one hour today instead of 30 minutes?'"
Remember: It's Quality, Not Quantity
"I know a lot of women come home from work and they're not yet in mom mode, they're on their Blackberries or their iPhones, chatting with their kids and working at the same time, and I think kids pick up on that. So don't feel guilty, go to the gym, do a yoga class, get your work done and when you come home, if you spend an hour instead of two hours with your children, you'll be a much better mother in that time."
"For some women the solution might be working from home, but I've learned it's more important to have flexible working hours as opposed to working part-time. It still might mean working 40 hours, but doing some of that at night. It's nice to know you have that option -- to do work when the kids are in bed or during naptime on the weekend."
"I like the fact that I can take my child to preschool, and I don't have to officially take the time off. It might mean I'm working at 1 AM, but that's okay, I do my best work at night and it will mean I will have spent some quality time with my son and not have missed his first day of preschool."
Don't Be Afraid to Say No
"Somewhere you do have to say no, whether that's a family obligation or a birthday party -- and we get so worked up with trying to meet those obligations and trying to be everywhere at once."
"We are blessed to have a lot of family in town but it can get so stressful when we have double offers for Sunday night dinner when sometimes we just want to say, 'Sorry,' and I've learned to do that, to say no. It doesn't mean every weekend I'm saying no, but sometimes I'm honest and I say, 'We really just want a lazy day at home.' I find more often than not, people say 'I wish I could do that,' or 'What a great idea.'"