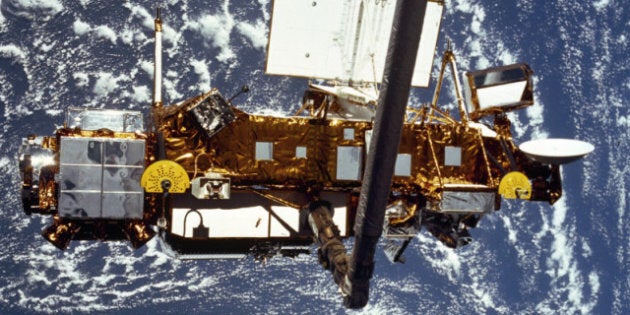 It's generally unlikely that you'll find a piece of a satellite on your front lawn, but the odds of a close encounter with space junk went up this weekend, if only by a little.
NASA has confirmed that its defunct, bus-sized satellite fell to Earth Friday, but likely didn't cause any damage. The Upper Atmospheric Research Satellite entered the atmosphere at about 11:23 p.m. ET over the coast of Washington.
NASA also says that the likelihood of finding the debris is slim. The satellite was expected to break into 26 pieces when it re-entered the atmosphere, the largest weighing 150 kilograms, and they likely fell into the Pacific Ocean, the space agency reports. When UARS started its orbit 20 years ago, NASA didn't have plans for controlled re-entries on satellites as they do now. The UARS satellite is the largest of its kind to plummet uncontrolled down to Earth.
NASA said in a statement that it was impossible to pinpoint where the debris landed. "Because of the satellite's orbit, any surviving components of UARS should have landed within a zone between 57 degrees north latitude and 57 degrees south latitude."
While NASA can't be precise, it's clear the satellite did NOT land on a farm in Okotoks, Alta., as many believed early Saturday thanks to an elaborate hoax by an aspiring Calgary filmmaker.
Sebastian Salazar tweeted that the NASA satellite had crashed into a farmer's field near Okotoks. "Debris found at the Wilmuth Farm," he posted to his account, @imnotgonnalie2u.
Salazar says he was inspired by the 1938 War of the Worlds War Of The Worlds broadcast by Orson Welles, which caused hysteria across the U.S. Salazar used direct quotes from the broadcast, including reports from a "Carl Phillips" who was reporting from "Wilmuth Farm." The Calgarian even included transcripts of interviews between Philips and the owner of the farm, as well as pictures of the "debris" made from spare parts in his home.
Canada wasn't the only country with a NASA satellite hoax — a Danish couple was also convinced they had seen parts of the falling satellite. Tonni and Ove Lind called police when they found what looked like satellite remains in their yard. The couple said they soon realized the machinery unlikely a satellite because there were no markings on the ground from impact, and virtually no damage to the pieces themselves.
Who knows — maybe that shooting star you saw over the weekend was actually NASA property hurtling towards earth.
See amateur astronomer footage of the satellite in orbit and a slideshow of Twitter reactions: